Garlic Parmesan Duchess Potatoes
by Admin

Posted on

August 7, 2023
Here I'll show you THE most delicious way to make Duchess Potatoes!
I never thought I'd see the day where I uploaded a recipe where you need a piping bag, but here we are. And for a delicious cause! Follow me…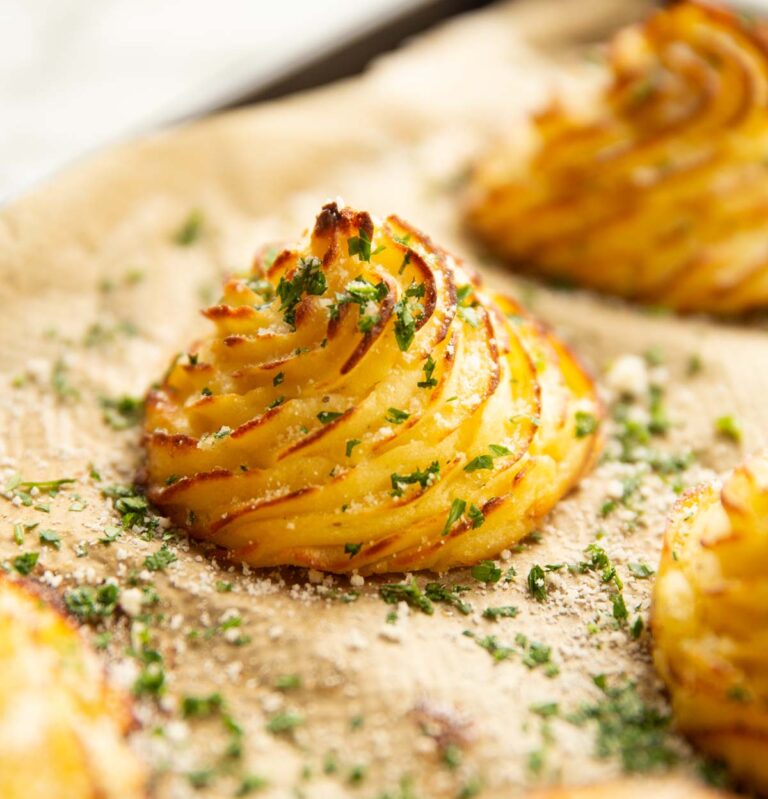 Duchess Potatoes
This is the kind of recipe that looks really fancy, but in reality it's really easy to make, especially the more times you make it.
What are Duchess Potatoes?
A duchess potato is essentially mashed potato that is passed through a piping bag to create small mounds, and then baked until crisp. It's a French dish and serves as a side dish for many recipes.
Today we're going to do a delicious twist and make garlic and parmesan loaded duchess potatoes.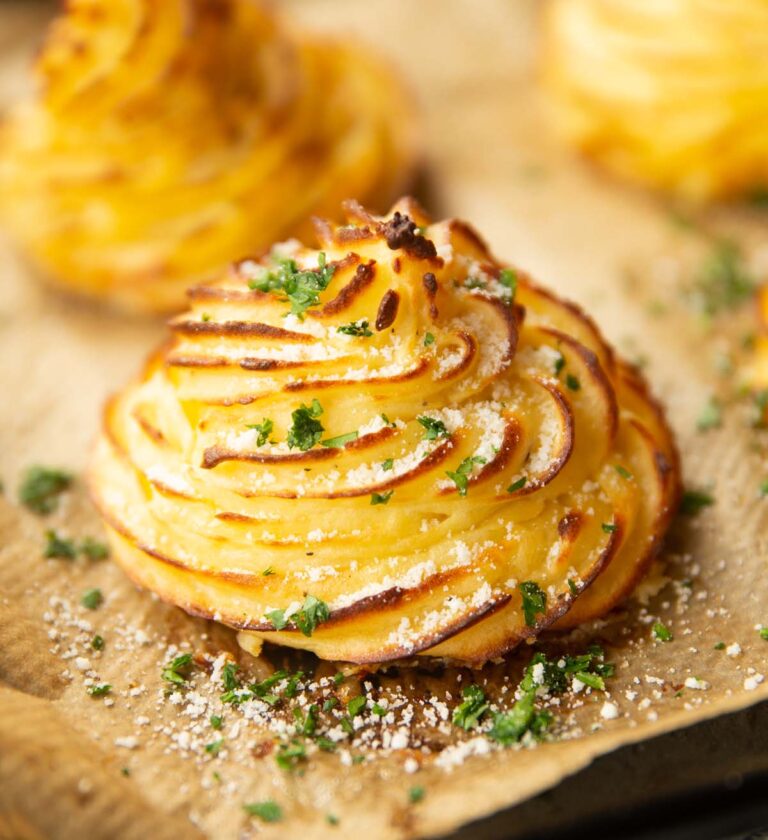 Roasted Garlic
Garlic mashed potato is great, but roasted garlic mashed potato is even better. When you roast garlic it turns gorgeously sweet and sticky. It completely transforms the flavour of the garlic into a much more subtle, nutty flavour.
The texture of the garlic also transforms too. Roasting the garlic low and slow turns the garlic buttery soft. It can then be squeezed out of the skins and blended into the mashed potato with ease. This is good because we want the mashed potato as smooth as possible so it's easily piped.
Process shots: slice tip of garlic bulb (photos 1&2), drizzle with oil (photo 3), wrap in foil (photo 4), roast (photo 5), squeeze out garlic (photo 6).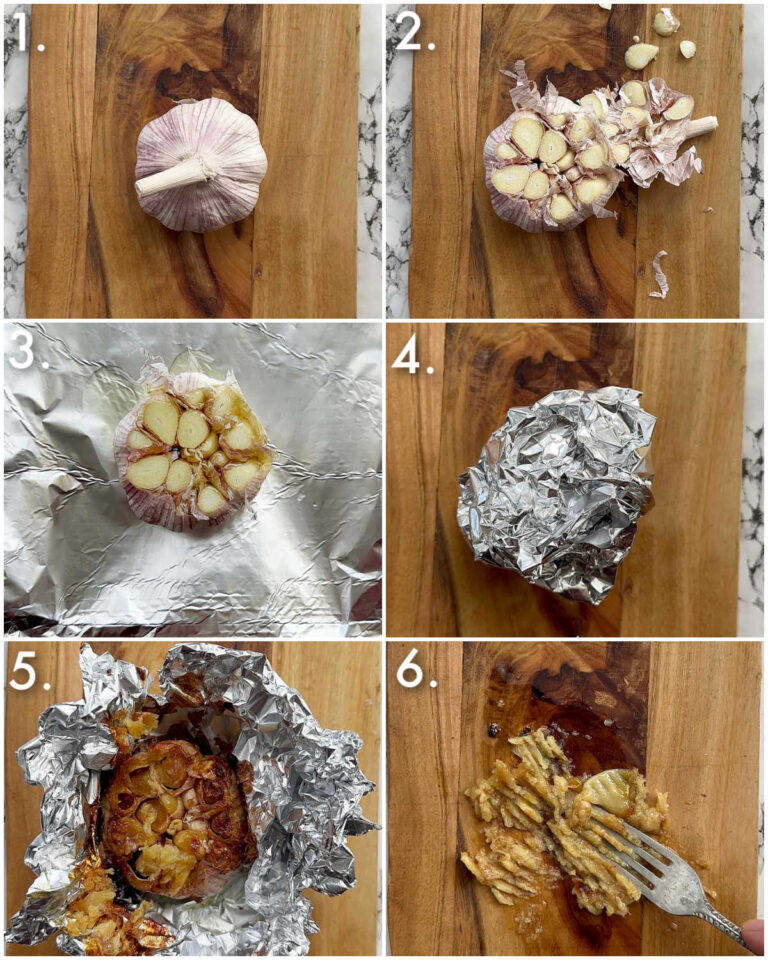 Garlic Parmesan Duchess Potatoes
Making duchess potatoes takes a little time, but it's a really straightforward process. There's just a few pitfalls to avoid to ensure they come out perfect every time.
Boiling the potatoes
Firstly, make sure the water is heavily salted, just to give the potatoes a good base seasoning (nobody likes bland potatoes!). Secondly, make sure you don't over-boil them. Just boil them until fork-tender. If you over-boil them they'll soak in too much water and result in a sloppy mash, which in turn makes it difficult for the duchess potatoes to keep shape in the oven. Lastly, you'll want to let them sit in the colander and steam dry before mashing, just to allow some of the excess moisture to escape.
Mashing the potatoes
Ensure you mash the potatoes until fairly smooth. Don't go overboard or the potatoes can turn gluey. Alongside butter, cream, garlic and parmesan, you'll want to stir through some egg yolks. These are key as they help the potatoes keep shape in the oven.
Piping the potatoes
Realistically you can pipe them into any shape, but classically they should look like swirly domes (yes, technical term 🤣). A large/jumbo star tip will help you achieve this. Just don't make them too big otherwise they'll collapse in the oven. Smaller duchess potatoes will keep shape more easily.
Process shots: boil and drain potatoes (photo 1), mash in cream and butter (photo 2), stir in parmesan, garlic and seasoning then egg yolks (photo 3), fit a piping bag over pint glass (photo 4), spoon in mash (photo 5), pipe duchess potatoes (photo 6).
Duchess Potatoes FAQ
How garlicky are these?
They're pretty garlicky, but because the garlic is roasted it's not too pungent. I use a large bulb of garlic, but if you're at all tentative just use a small one.
How do I prevent them from collapsing?
All of the tips above will help you. The perfect boiling/steaming of the potatoes helps, as do the egg yolks and the size of the duchess potatoes. If they do spread out in the oven don't panic as they'll still taste delish!
Can I make them ahead of time?
If you want to make them ahead of time just allow them to cool and then store them in the freezer. From there, you can bake from frozen at 180C/350F for about 12-15mins, or until crisp on the outside and piping hot right through the centre.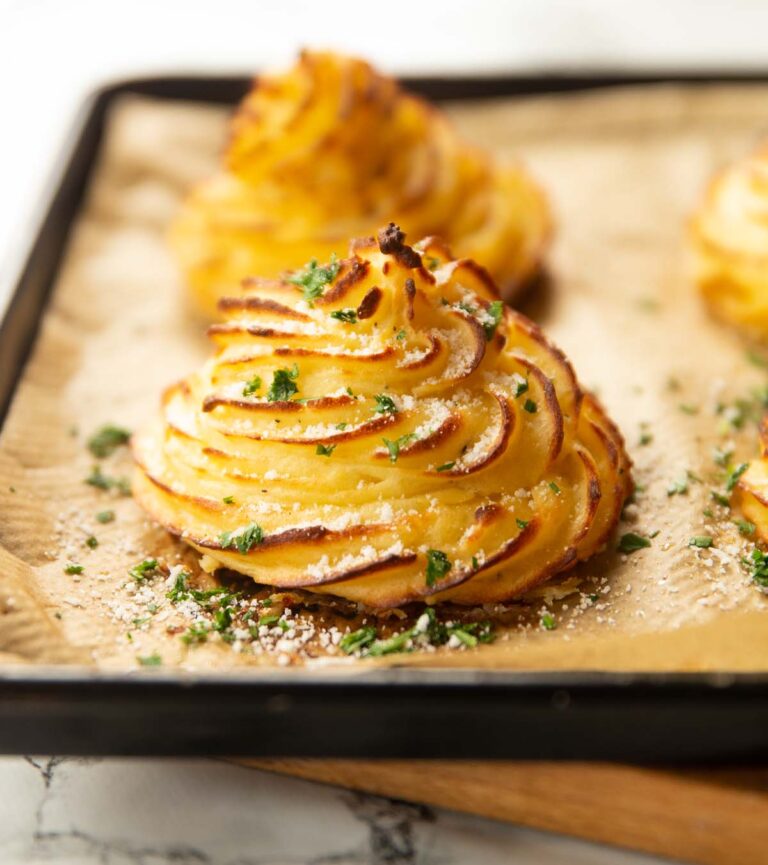 Serving Duchess Potatoes
These make an awesome Side Dish for so many Dinners. They're even great as part of a Roast Dinner with some Gravy.
And if you're concerned of the mix of cheese and gravy, just remember that cheesy chips and gravy is a British delicacy 😛
Alrighty, let's tuck into the full recipe for these roasted garlic parmesan duchess potatoes shall we?!
How to make the best Duchess Potatoes

 (Full Recipe & Video)
Garlic Parmesan Duchess Potatoes
Here I'll show you THE most delicious way to make Duchess Potatoes!
Prep Time
20

minutes
minutes
Total Time
1

hour
hour
20

minutes
minutes
Servings
10
duchess potatoes
Equipment
Sharp Knife, Chopping Board & Potato Peeler

Foil

(for roasting garlic)

Large Pot & Colander

(for potatoes)

Potato Masher & Wooden Spoon

(for mash)

Fine Cheese Grater

(for parmesan)

Piping Bag & Large Star Tip

(for duchess potatoes)

Large Baking Tray & Baking Paper

(for baking potatoes)

Brush or Spoon

(to pour butter over duchess potatoes)
Ingredients
1

large bulb of

Garlic

1.3kg / 2.8lb

Baking Potatoes

5 tbsp / 75g

Butter, 2 tbsp/30g melted, the rest left at room temp

2

tbsp

Double / Heavy Cream, at room temp

60g / 3/4 cup

freshly grated

Parmesan, plus more to serve

4

large

Egg Yolks

finely diced

Fresh Parsley, to serve
Olive Oil, as needed
Salt & Pepper, as needed
Instructions
Slice the tip off the garlic bulb to expose the cloves and drizzle with oil. Wrap in foil then place in the oven at 180C/356F for 50-60mins, or until very soft, golden and caramelised. Leave to cool for a few mins, then squeeze out as much as you can, making sure the outer peel doesn't mix in. Sprinkle over a pinch of salt then mash with a fork to smooth out any lumpy parts. Increase oven temp to 200C/400F.

Meanwhile, peel and dice the potatoes into large bite-sized pieces. Add to a large pot of cold water with 2 tsp salt. Bring to a boil and cook until the potatoes are fork tender (they should just about break apart when stabbed). Drain and leave in the colander for 5 minutes to steam dry, shaking once halfway.

Add the potatoes to the pot and mash with 3 tbsp / 45g butter alongside the cream. Stir in the parmesan and roasted garlic, mashing a little more to smooth out any lumps if needed. Generously season with salt and pepper (to taste). If the mash is still aggressively steaming just leave it to cool for a few mins, then one by one firmly stir in the egg yolks until well blended.

Spoon the mash into a piping bag fitted with a large star tip (you'll need to work in batches). Pipe the mash into swirly dome shapes on a large baking tray with baking paper. They should be around 2.5-3"/6.5-7.5cm wide/high and you should get 10 from the mix.

Carefully drip butter over the tops (it should swirl down and coat the potatoes) then bake in the oven for 15-20mins, or until golden brown. Be vigilant as they can char quickly and turn the tray around if one side is cooking more than the other. Lower temp slightly if they start charring quickly.

Serve with parsley and more parmesan and then tuck in and enjoy!
Notes
a) Boiling the potatoes – Be sure not to over-boil the potatoes, otherwise they'll soak in too much water and the mash will be too sloppy to form the duchess potatoes. 
b) Steam dry – Leaving the cooked potatoes to steam for 5 minutes is important to always some excess moisture to escape. Don't skip this step.
c) Seasoning – Make sure you generously season AFTER adding the parmesan, just so you can get a real taste for how salty it is and how much more it needs. Nobody likes bland mash, so ensure you season appropriately! 
d) Star tip – The star tip needs to be one of the large/jumbo ones. If it's too small you'll struggle to get the mash to pass through to form the duchess potatoes.
e) Make Ahead – I recommend fully making them, allowing them to cool then storing in the freezer. From there, you can bake from frozen at 180C/350F for about 12-15mins, or until crisp on the outside and piping hot right through the centre.
f) Calories – Per potato assuming 1 tsp olive oil for roasting garlic.
Nutrition
Calories:
222
kcal
|
Carbohydrates:
24.88
g
|
Protein:
6.11
g
|
Fat:
11.34
g
|
Saturated Fat:
6.238
g
|
Polyunsaturated Fat:
0.756
g
|
Monounsaturated Fat:
3.477
g
|
Trans Fat:
0.299
g
|
Cholesterol:
100
mg
|
Sodium:
194
mg
|
Potassium:
582
mg
|
Fiber:
2.9
g
|
Sugar:
1.17
g
|
Vitamin A:
395
IU
|
Vitamin C:
26.4
mg
|
Calcium:
96
mg
|
Iron:
1.28
mg
---
The post Garlic Parmesan Duchess Potatoes appeared first on Don't Go Bacon My Heart.
Here I'll show you THE most delicious way to make Duchess Potatoes! I never thought I'd see the day where I uploaded a recipe where you need a piping bag, but here we are. And for a delicious cause! Follow me… Duchess Potatoes This is the kind of recipe that looks really fancy, but in…