Butternut Squash Mac and Cheese
by Admin

Posted on

January 20, 2023
This roasted butternut squash mac and cheese is loaded with so much flavour and couldn't be more simple to make!
If you've never added butternut squash to your mac and cheese before, you're missing out. It adds a gorgeously sweet background flavour which balances out the cheese so beautifully. Once blended, it also helps create a thick and silky sauce. Sound good? Follow me…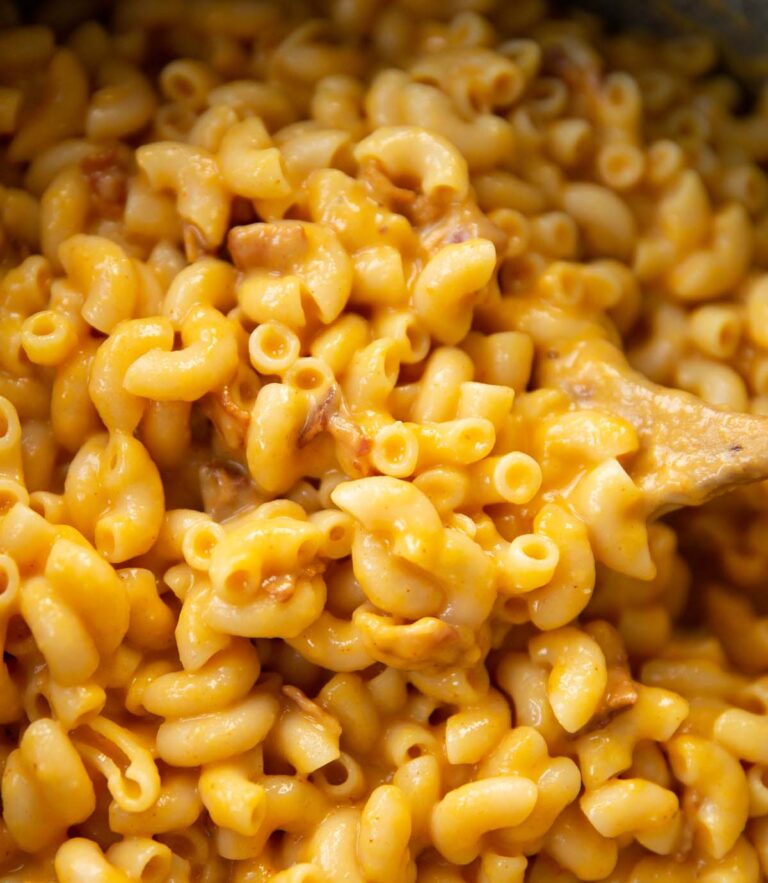 Roasted Butternut Squash
Now, you could boil the squash, but I much prefer roasting it. It takes a little more time/effort, but it's truly worth it.
Why roast the butternut squash?
Roasting the squash will also caramelize it, which adds heaps more flavour than simply boiling it. Plus, whilst it does take more time to cook, you don't need to peel and dice the squash (which is never a fun process).
Roasted Garlic
Since we're roasting the squash, it only makes sense to roast some garlic alongside, since they take the same time to roast. Plus, those dents in the squash are way too perfect not to place some garlic in. Roasting the garlic will sweeten up the flavour and take the harsh bite out of it. Plus it'll completely soften, which makes it perfect to blend through this mac and cheese.
Process shots: slice off stalk (photo 1), slice in half (photos 2&3), gut out seeds and coat in oil, salt and pepper (photo 4), add in garlic (photo 5), roast (photo 6).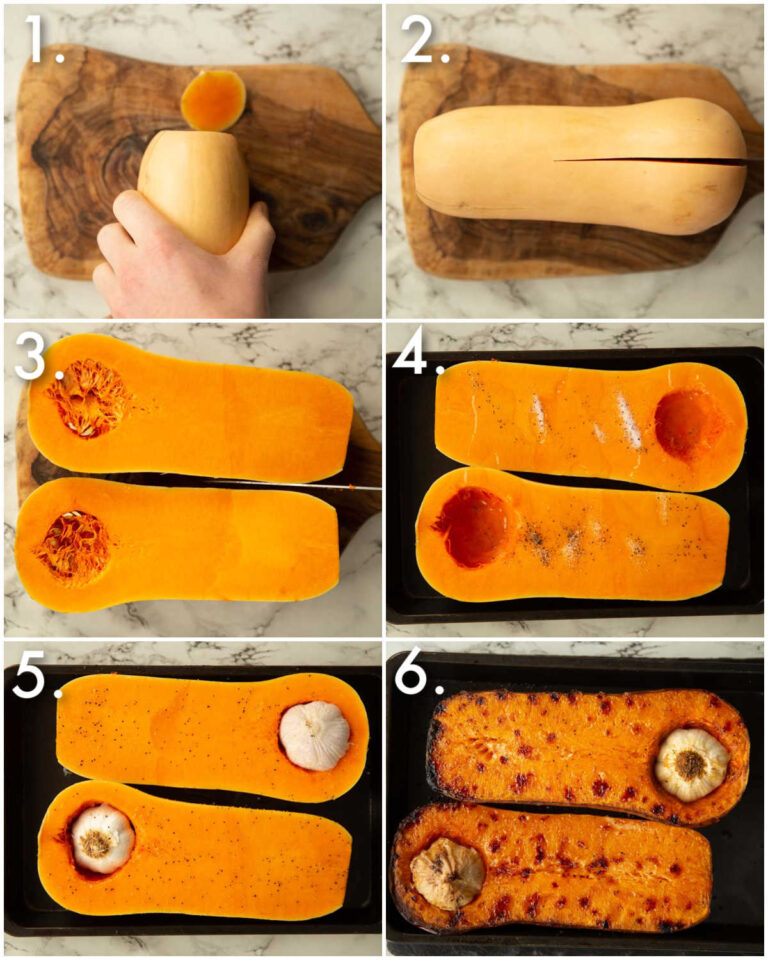 Butternut Squash Sauce
Once the squash is super tender, it's time to blend it up into a sauce. I use a food processor which has a blending option. You want something high-powered to really blitz the squash and turn it silky smooth.
With the roasted squash and garlic, we're going to create the base of the sauce using:
Milk – I recommend using whole milk (much creamier). The squash will already be naturally creamy once blended, but some milk certainly helps things along 😛
Chicken Stock – This thins out the squash to create the sauce. It also adds a baseline flavour too.
Process shots: scoop out squash and squeeze out garlic (photo 1), add to blender (photo 2), add stock and milk (photo 3), blitz until very smooth (photo 4).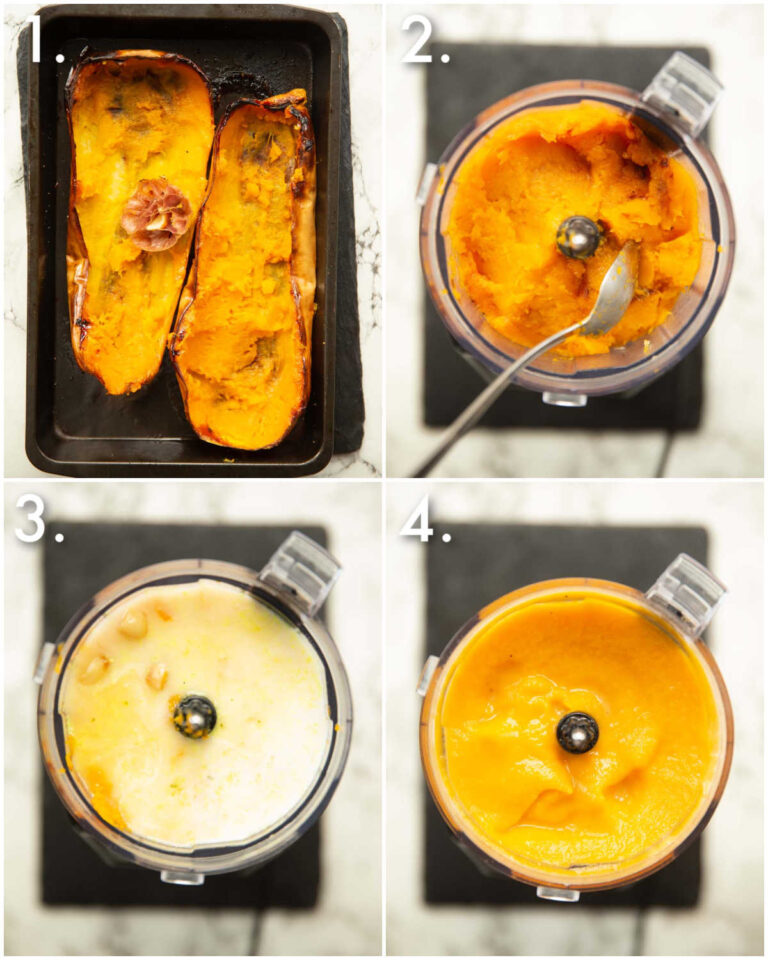 Butternut Squash Mac and Cheese
Once you've blended the sauce, it's time to crack on with the mac and cheese.
The power of Bacon
I HIGHLY recommend adding bacon to this recipe. Not only does it add some crispy texture, but the saltiness also helps balance out the sweetness of the squash. I typically fry it then remove from the pan and add it in at the end; just to help it stay crisp. However you can just leave it in the pot if you'd prefer.
What Cheese should I use?
I use a base of Cheddar, alongside some Gouda too. Gruyere also works nicely as a secondary cheese.
Extra Seasoning
To give this mac and cheese a little extra 'umph' we're going in with some dijon mustard, which helps enhance those yummy cheesy tones. I also love adding in some smoked paprika to highlight the light charring out the squash, alongside some cayenne pepper to balance everything out with a kick of spice.
Starchy Pasta Water
The sauce will be pretty thick once you melt the cheese through it. As such, you'll want to stir in some of the leftover pasta water to thin it out. The starch will also help emulsify the fats and bind everything together to help create a smooth and creamy sauce.
Process shots: add bacon to pot (photo 1), fry then remove (photo 2), pour in sauce (photo 3), stir in cheese (photo 4), stir in seasoning (photo 5), stir in pasta, bacon and pasta water (photo 6).
Serving Butternut Squash Mac and Cheese
You'll want to check for seasoning/spice and adjust before serving up. You can also continue stirring through the pasta water a splash at a time to thin it out if needed. Plate up right away, as the sauce thickens pretty quickly!
For more delicious butternut squash pasta recipes check out my Brown Butter Butternut Squash Pasta and Creamy Butternut Squash Pasta!
For more stovetop mac and cheese recipes check out my Creamy One Pot Mac and Cheese and French Onion Mac and Cheese! 
Alrighty, let's tuck into the full recipe for this butternut squash mac and cheese shall we?!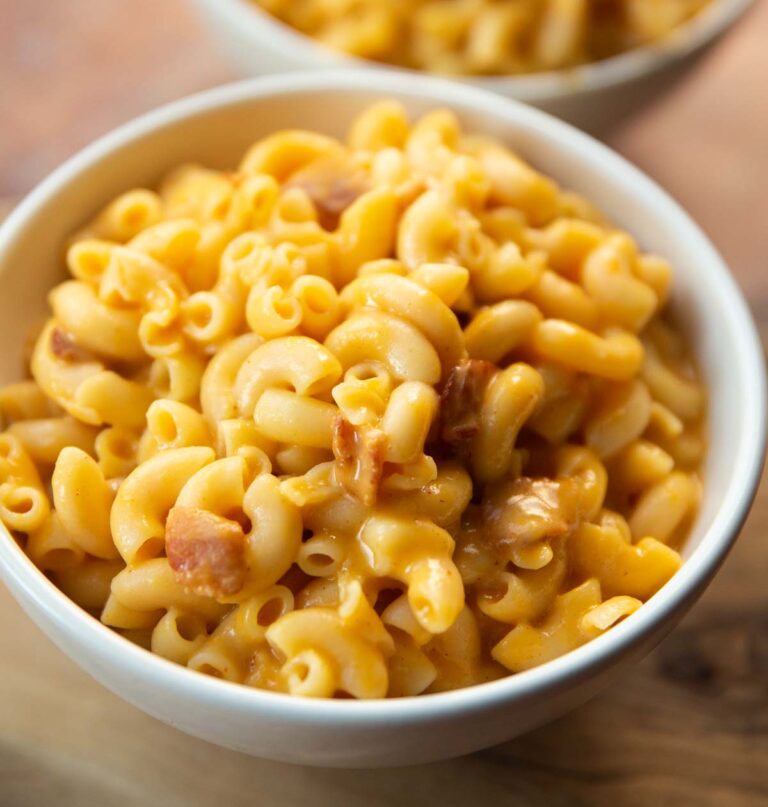 How to make Butternut Squash Mac and Cheese (Full Recipe & Video)
Butternut Squash Mac and Cheese
This roasted butternut squash mac and cheese is loaded with so much flavour and couldn't be more simple to make!
Course
Dinner, Main Course
Cuisine
American, Western
Prep Time
20

minutes
minutes
Total Time
1

hour
hour
20

minutes
minutes
Equipment
Large Pot & Wooden Spoon

(for mac and cheese)

Baking Tray

(for roasting squash)

Large Pot & Colander

(for boiling macaroni)

Food Processor/Blender

(for blending sauce)

Sharp Knife & Chopping Board

Cheese Grater
Ingredients
1lb / 500g

uncooked

Macaroni

1x 2lb/1kg

whole

Butternut Squash

2.5 cups / 250g

freshly grated

Cheddar

1 cup / 100g

freshly grated

Gouda

1/2 cup / 120ml

Milk (preferably whole milk)

1/2 cup / 120ml

Chicken Stock

6 – 8

slices

Streaky Bacon, diced

1

small bulb of

Garlic, halved through the centre to expose the cloves (see notes)

1

tsp

Dijon Mustard

1/2

tsp

Smoked Paprika

1/4

tsp

Cayenne Pepper (or to spice preference)
Salt & Black Pepper, as needed
Olive Oil, as needed
Instructions
Prep Squash: Slice off the firm stalk at the end of the squash, then carefully slice it in half lengthways. Use a spoon to gut out the seeds.

Roast: Place on a baking tray flesh-side-up. Drizzle over a good glug of olive oil then sprinkle over 1/4 tsp salt & 1/8 tsp black pepper. Brush or rub into the squash. Place each half of the garlic bulb into the base of each squash with the exposed cloves facing down. Place in the oven at 190C/375F for 45-60mins, or until very soft and lightly charred/caramelized.

Blend: Squeeze out the garlic into a food processor or blender, then scoop out the squash and add that in too (discard skins). Add milk and stock then blend until completely smooth.

Pasta: Add macaroni to well-salted boiling water and cook until al dente. Drain when needed, reserving 1-2 cups of starchy pasta water.

Bacon: Meanwhile, fry the bacon in a large pot over medium heat until crisp with the fat rendered. Remove and place to one side.

Mac and Cheese: Add in the sauce and reduce heat to low. Stir in the cheese until it melts, then stir in dijon, smoked paprika, cayenne pepper and salt & black pepper (to taste, I typically do 1/4 salt tsp at this point). Stir in the cooked pasta alongside a splash of starchy pasta water to loosen up the sauce. Stir the bacon back through and check for seasoning/spice. If it's still a little thick continue stirring through the starchy pasta water a splash at a time until your desired consistency.
Notes
a) Starchy Pasta Water – This is a key ingredient as it not only thins out the sauce but also helps emulsify the fats and bind everything together. If you just add more stock or milk the sauce is just going to get more watery and potentially more grainy. I typically drain the macaroni over a jug or bowl to collect all of the water. Just make sure the water is well-seasoned so it doesn't dilute the flavour of the sauce.
b) Garlic – Using one whole bulb will give a fairly prominent garlic flavour. It does mellow out in the oven as it roasts, but if you're not a garlic lover I recommend just using two large cloves (one in each squash). 
c) Cheese – I love a combo of cheddar (which adds the bulk of the flavour) and some Gouda (for a touch of creaminess). I'd keep the cheddar, but you could sub the gouda with gruyere and I imagine it'll work perfectly. In all cases, it's important to grate the cheese yourself; the pre-grated stuff can turn the sauce grainy.
d) Calories – Whole recipe divided by 5 assuming 1 tbsp olive oil and 8 slices of bacon total.
Nutrition
Calories:
902
kcal
|
Carbohydrates:
77.82
g
|
Protein:
39.44
g
|
Fat:
48.4
g
|
Saturated Fat:
16.499
g
|
Polyunsaturated Fat:
2.194
g
|
Monounsaturated Fat:
9.051
g
|
Trans Fat:
0.974
g
|
Cholesterol:
83
mg
|
Sodium:
736
mg
|
Potassium:
1045
mg
|
Fiber:
5.3
g
|
Sugar:
8.68
g
|
Vitamin A:
1387
IU
|
Vitamin C:
34.6
mg
|
Calcium:
617
mg
|
Iron:
2.31
mg
---
The post Butternut Squash Mac and Cheese appeared first on Don't Go Bacon My Heart.
This roasted butternut squash mac and cheese is loaded with so much flavour and couldn't be more simple to make! If you've never added butternut squash to your mac and cheese before, you're missing out. It adds a gorgeously sweet background flavour which balances out the cheese so beautifully. Once blended, it also helps create…