Tomato Baked Eggs (Caprese Style)
by Admin

Posted on

September 10, 2022
These Caprese Style Baked Eggs are totally delicious and so simple to make!
This dish is very similar to a classic Shakshuka, but with an Italian twist. It uses simple ingredients and is super easy to whip up. Follow me…
Bring on the bread!
My edible tool of choice for this dish is of course bread. I love toasting it so you get that gorgeous crisp/gooey contrast.
What kind of bread to use?
I recommend using something like a baguette and slicing it up, just so the slices are the perfect size for dunking. Stay away from soft sandwich bread – you want something firm to give you a sturdy dunk!
How do I toast the bread?
Just lightly brush both sides with oil, then toast both sides under the grill on a baking tray. You could also toast in a frying pan if you'd prefer.
Process shots: brush sliced baguette with oil (photo 1), grill, then brush and grill the other side (photo 2).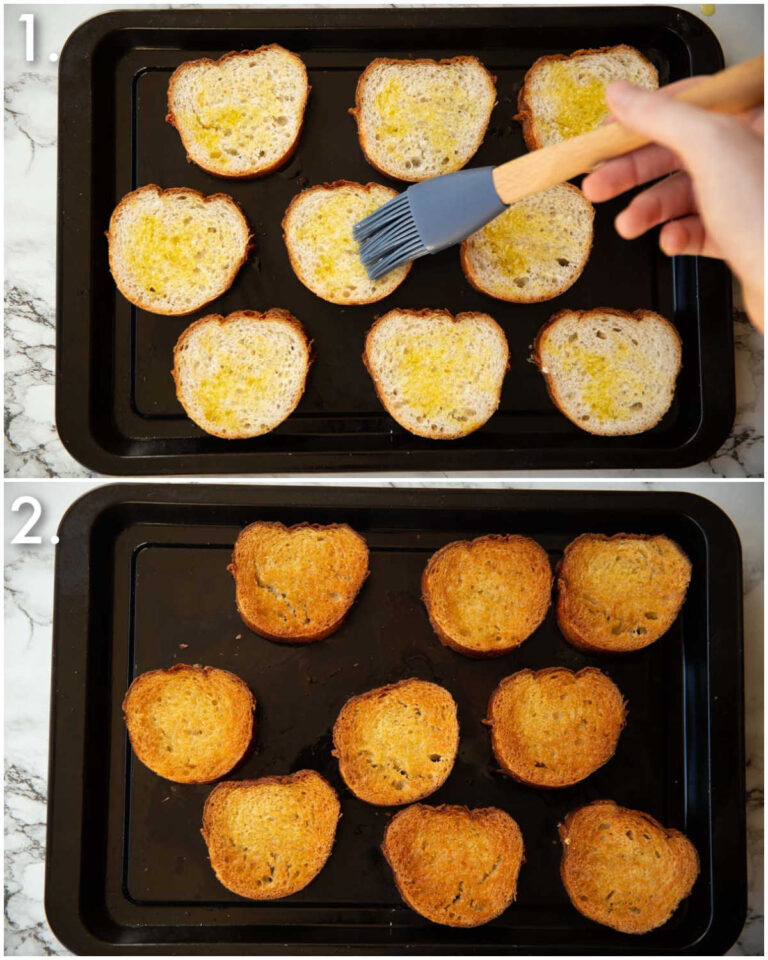 Tomato Baked Eggs
The baked eggs themselves are actually really simple to whip up and only require a handful of simple ingredients. Just a few notes…
Chopped Tomatoes
These make up the base of the sauce, so try and use some good-quality tomatoes. You'll want to season well with salt & pepper; I also like to add some sugar to balance out the acidity of the tomatoes.
Sun Dried Tomatoes
To really emphasize the tomato aspect, and to bulk out the dish, I love adding sun dried tomatoes. They go nice and plump/juicy as they simmer in the sauce and add such gorgeous flavour. You can also use the oil from the jar to fry the garlic too, which is always a bonus!
Simmering the sauce
Really important to simmer the sauce for around 20mins. This will not only give the opportunity for the flavours to deepen and marry together, but it'll also reduce the sauce so it's nice and thick. Because nobody likes watery baked tomatoes!
Process shots: add garlic and oil to oven-safe pan (photo 1), fry (photo 2), add in chopped tomatoes, sun dried tomatoes, water, basil and seasoning (photo 3), simmer to reduce (photo 4), crack in eggs (photo 5), bake (photo 6).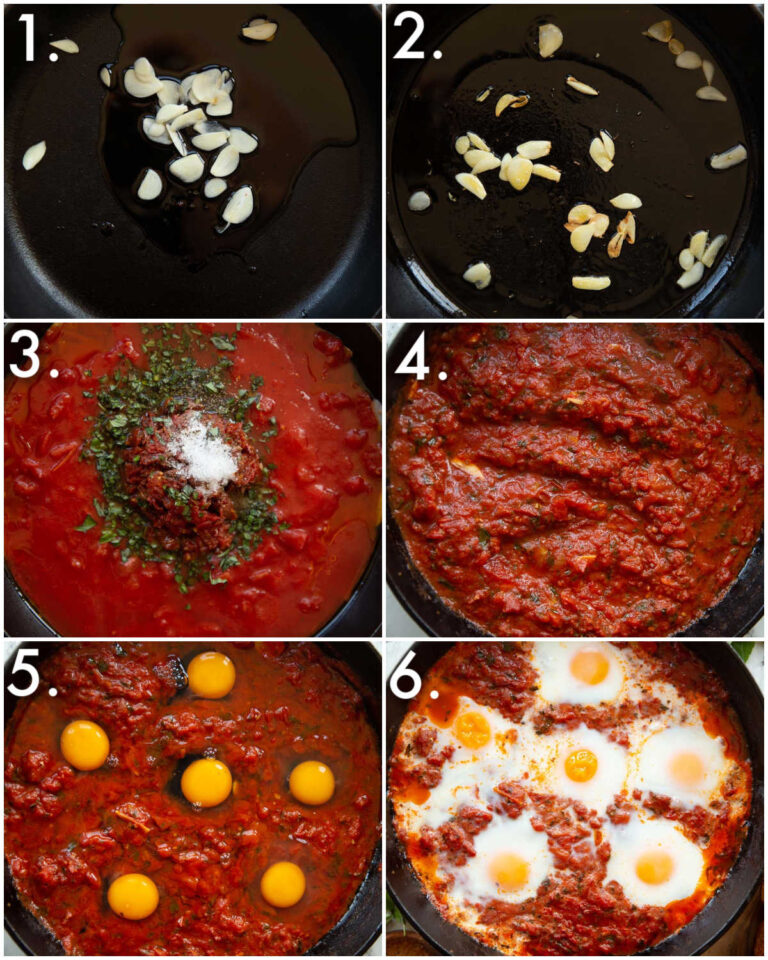 Tomato Baked Eggs FAQ
Do I have to toast the bread?
Strictly speaking no. If you're not, I recommend big chunks of buttered bread 😋
What if I don't have an oven-safe dish?
If your pan isn't suitable for baking, you can add on a lid and allow the steam to poach the eggs and cook them through. However, my preferred method is baking.
How do I know when the eggs are cooked?
You'll notice the whites turning opaque and the yolk should turn a little wrinkly. I recommend staying on the side of caution and taking them out slightly early as they'll carry on cooking slightly once out of the oven. You can always add them back in, but once the yolk is set, there's no going back!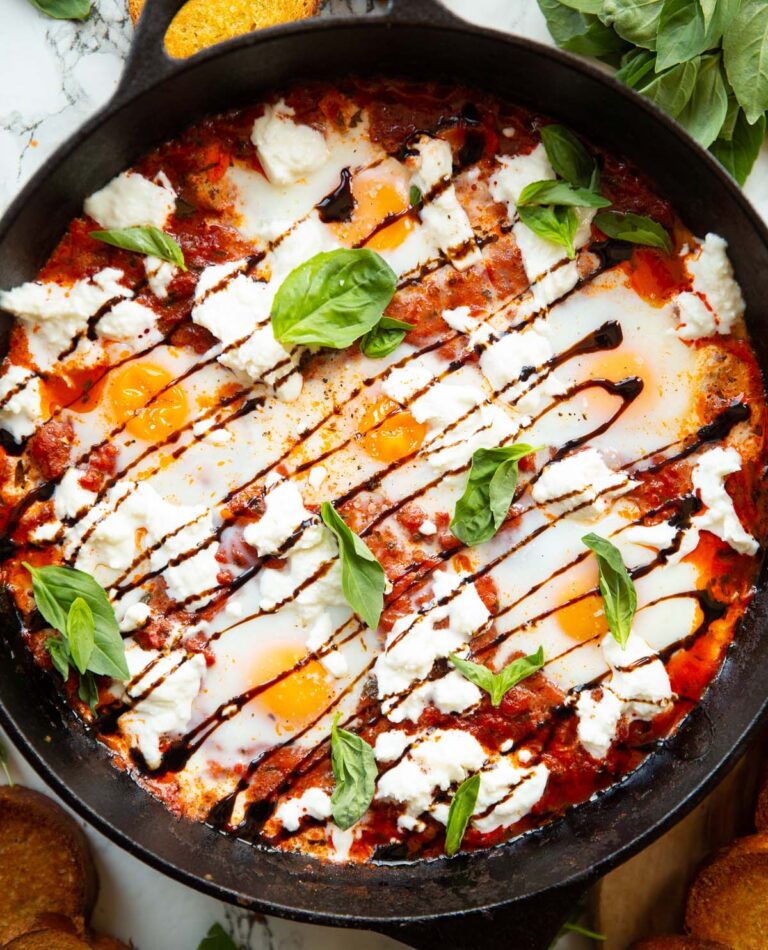 Serving Tomato Baked Eggs
Once they're out of the oven, I like to dot over some roughly torn mozzarella, then drizzle with balsamic glaze and garnish with fresh basil leaves. From there, you can tuck straight in with the toast!
I like serving this for Brunch or Lunch, but honestly, it's so good for any meal of the day!
For more Caprese recipes check out my Caprese Pull Apart Bread and Caprese Burrata Pasta!
Alrighty, let's tuck into the full recipe for these Caprese baked eggs shall we?!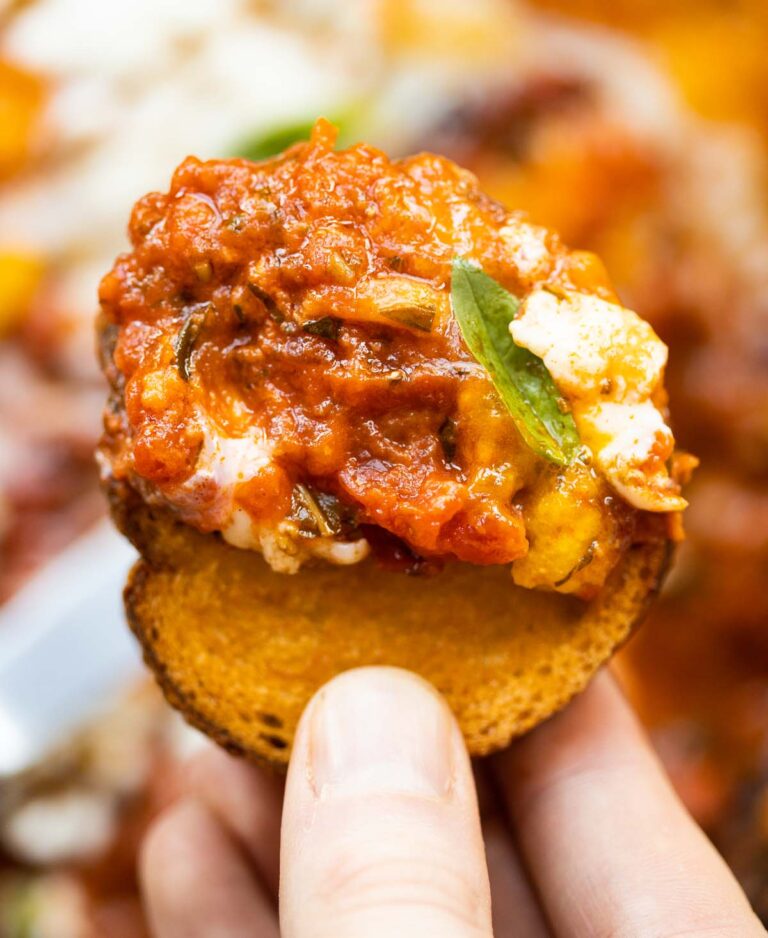 How to make Tomato Baked Eggs

 (Full Recipe & Video)
Tomato Baked Eggs (Caprese Style)
These Caprese Style Baked Eggs are totally delicious and so simple to make!
Prep Time
5

minutes
minutes
Cook Time
35

minutes
minutes
Total Time
40

minutes
minutes
Equipment
Large Cast Iron Skillet & Wooden Spoon

(or other oven-safe skillet)

Baking Tray, Small Pot & Brush

(for toast)

Paper Towels

(for patting mozzarella dry)

Sharp Knife & Chopping Board
Ingredients
Baked Eggs
2x

14oz/400g good quality cans of

Chopped Tomatoes

6

Eggs

1 cup / 150g

Sun Dried Tomatoes, finely diced

3.5oz / 100g

Fresh Mozzarella, roughly torn & patted dry to remove moisture

1

small bunch

Fresh Basil, finely diced (save some small leaves to serve)

2

tbsp

Sun Dried Tomato Oil, from the jar (can sub Extra Virgin Olive Oil)

3-4

cloves of

Garlic, very thinly sliced

1/2

tsp

Sugar

1/4

tsp EACH:

Salt, Black Pepper, or to taste (plus more to season eggs)
To Serve
1

small

Baguette, sliced (3 or so slices each)

2

tbsp

Extra Virgin Olive Oil
Balsamic Glaze, as needed
Instructions
In a large cast iron/oven-safe skillet over medium heat, add 2 tbsp sun dried tomato oil. Add garlic and fry for a couple of mins until it starts to tinge with colour, then pour in the chopped tomatoes. Fill one of the cans up halfway with water, give it a swill, then pour into the second can and swill that out too. Pour into the pan then add sun dried tomatoes, basil, sugar, salt & pepper.

Give it all a good stir, then simmer for 20mins. This is important to marry the flavours and reduce the sauce.

Meanwhile, add sliced bread to a tray and brush one side with oil. Place under the grill and broil until crisp. Flip the slices over, brush with oil and place back under the grill until the other side is crisp. Place to one side and preheat the oven to 180C/350F.

Once the sauce has reduced, check for seasoning and adjust if needed. Use your wooden spoon to make a well/dent in the sauce. Crack an egg into the well, then repeat with the remaining eggs. Place the skillet in the oven for 7-10mins, or until the whites are just about cooked through and the yolk is still a little runny. Check regularly after 6-7mins as they'll cook quickly, and keep in mind they'll carry on cooking a little more once out of the oven.

Season the eggs with a pinch of salt & pepper. Dot over the torn mozzarella, then drizzle over the balsamic glaze and finish with a sprinkle of basil. Tuck in with toast and enjoy!
Notes
a) Mozzarella – You could bake the mozzarella with the eggs, I just much prefer it freshly torn on top. In both cases though it's important to soak up as much moisture from the mozzarella as possible, otherwise it'll turn everything watery as it warms up.
b) Bread – You could also toast the bread in a pan instead of under the grill. You don't have to toast the bread at all – in which case I recommend big hunks of buttered bread.
c) Balsamic Glaze – You can use Homemade Balsamic Glaze or store-bought. Either way, just make sure it's balsamic glaze, not straight balsamic vinegar, otherwise it'll spoil the dish!
d) Calories – Whole recipe divided by 3 without bread.
Nutrition
Calories:
404
kcal
|
Carbohydrates:
22.92
g
|
Protein:
23.53
g
|
Fat:
26.04
g
|
Saturated Fat:
8.519
g
|
Polyunsaturated Fat:
3.394
g
|
Monounsaturated Fat:
12.162
g
|
Trans Fat:
0.038
g
|
Cholesterol:
353
mg
|
Sodium:
879
mg
|
Potassium:
1315
mg
|
Fiber:
7.5
g
|
Sugar:
15.04
g
|
Vitamin A:
2368
IU
|
Vitamin C:
43.2
mg
|
Calcium:
346
mg
|
Iron:
5.23
mg
---
If you loved this Tomato Baked Eggs Recipe then be sure to Pin it for later! Already made it or got a question? Give me a shout in the comments and pick up your free ecookbook along the way!
The post Tomato Baked Eggs (Caprese Style) appeared first on Don't Go Bacon My Heart.
These Caprese Style Baked Eggs are totally delicious and so simple to make! This dish is very similar to a classic Shakshuka, but with an Italian twist. It uses simple ingredients and is super easy to whip up. Follow me… Bring on the bread! My edible tool of choice for this dish is of course…