Avocado Egg Toast
by Admin

Posted on

May 14, 2022
Here I'll show you THE most delicious way to serve up avocado and egg on toast!
There's a ridiculous amount of different ways you could make avocado and egg on toast, and whilst there's no right or wrong way, today I'm going to show you the best way 😛. Follow me…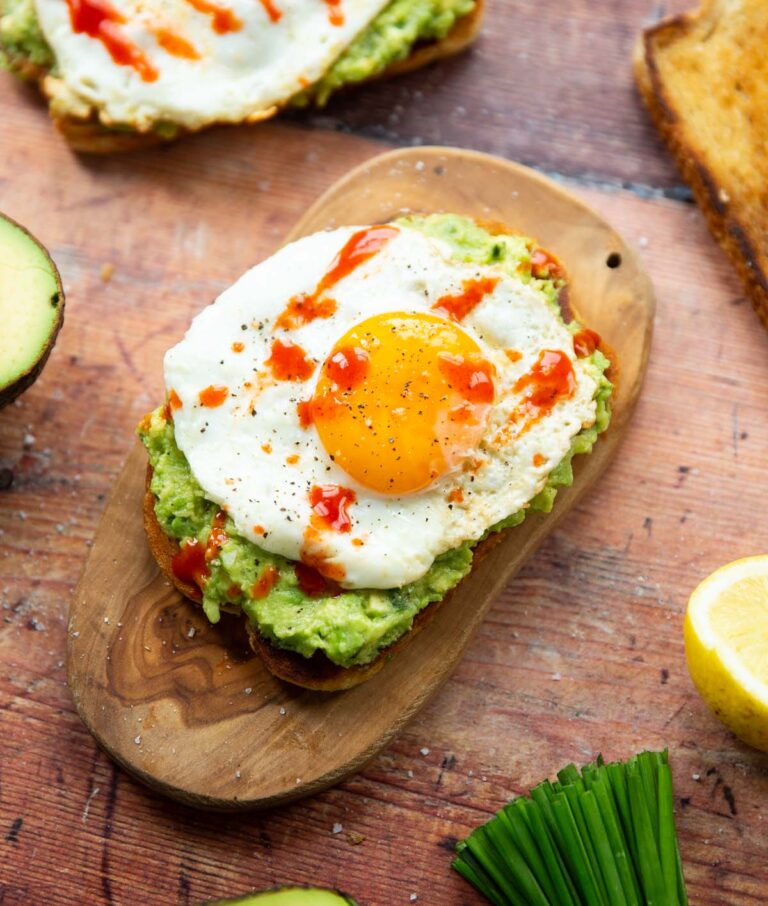 Smashed Avocado
The avocado makes up a big part of this recipe, so it's important to let it shine. Sure, you could just mash up some avocado, but I like throwing in a few extra goodies:
Simple Smashed Avocado Ingredients
Avocados – Ripe, but not bruised.
Chives – These add a gorgeous pop of flavour.
Extra Virgin Olive Oil – Helps give the smashed avo a silky texture. It also adds a gentle background flavour.
Lemon Juice – Enhances the natural flavours of the avocado and prevents it from browning.
Salt and Pepper – Season well with a good pinch of salt and black pepper.
When it comes to smashing the avocado, just make sure you don't mash it into oblivion. You want to keep a bit of texture, so a few lumps here and there are fine!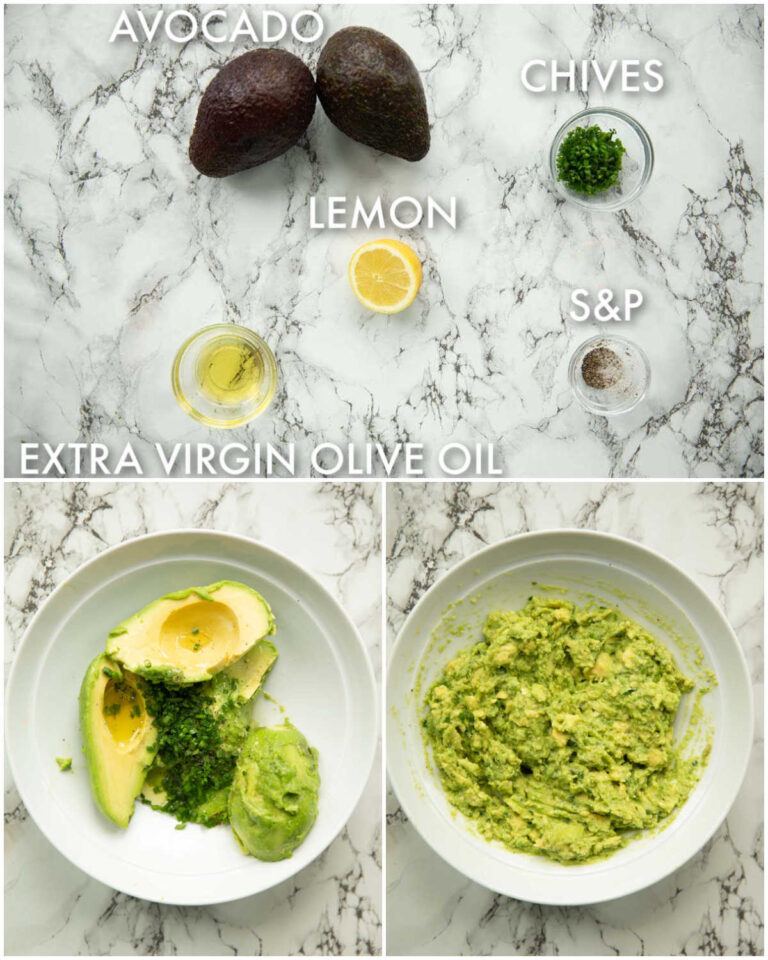 Fried Egg
When it comes to frying the egg, I won't patronise you too much, but here are a few tips to consider:
Room Temp – I find bringing the eggs to room temp helps them cook a little more evenly. Not a deal-breaker though!
Fresh Eggs – Do try and use fresh eggs. They'll be more tightly compact, so won't spill out across the pan.
Butter – I love frying eggs in butter, just so you can baste the tops of the egg whites. This not only wraps the eggs in a gorgeous buttery flavour, but it also helps cook the eggs evenly.
Could I serve the egg differently?
My second option would be a Poached Egg, just so you get the glorious runny egg yolk. Scrambled Eggs are pretty nice, but you'll miss out on the runny egg yolk 🙁
Process shots: add butter to non-stick pan (photo 1), stir to melt (photo 2), fry eggs and baste in butter (photo 3), remove from pan, leave butter (photo 4).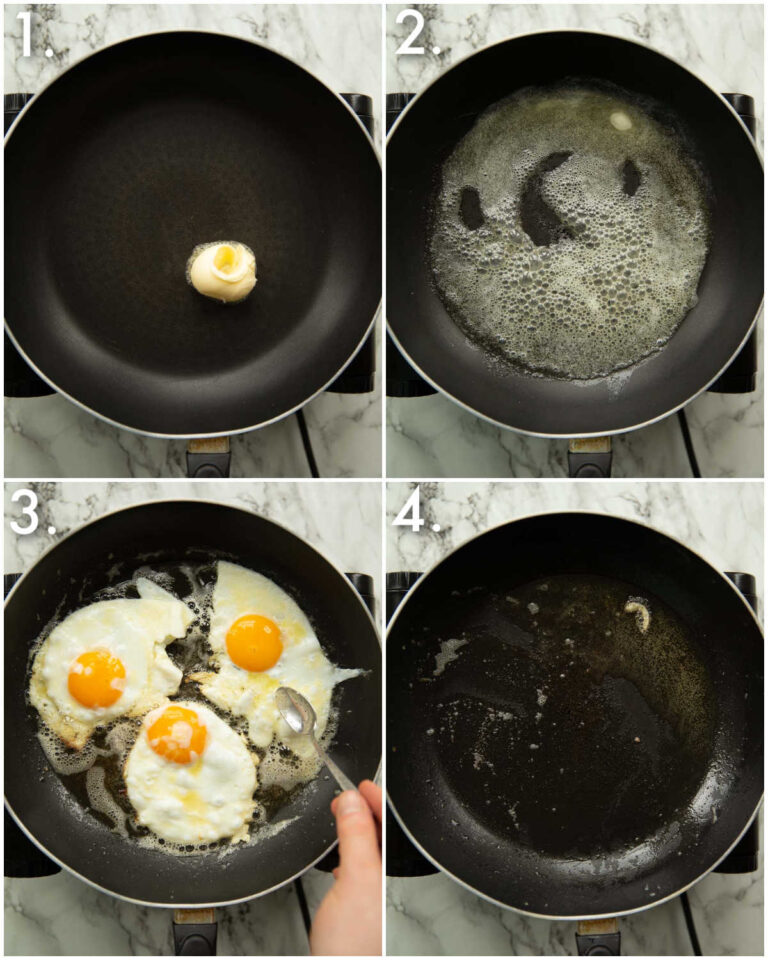 Fried Bread
I always get stick when I post a 'something on toast' recipe because I always end up frying the bread. Which I guess leaves you with more of a 'something of fried bread' recipe, but let's not get stuck on technicalities here 😂. It's criminal to waste leftover butter!
What kind of bread to use?
You want something sturdy like Sourdough or Artisan Style bread. Just so it toasts up nicely and gives you a firm platform to stack on the avocado and egg. Soft sandwich bread isn't great for this recipe.
Process shots: add bread to leftover butter (photo 1), fry both sides (photo 2).
Avocado and Egg on Toast
When it comes to putting everything together, the only extra addition I add is hot sauce. Because quite frankly no avocado egg toast is complete without a few lashings of hot sauce. It adds a final hit of flavour and cuts through the rich egg yolk and buttery egg whites.
What kind of hot sauce to use?
I typically use Cholula hot sauce, but Frank's and Tabasco also work well.
What else could I add to avocado egg toast?
Honestly? I'd keep it simple as it is. However, if you want to crank it up a notch then bacon, feta or roasted cherry tomatoes are all welcomed additions.
Process shots: add fried bread to chopping board (photo 1), add smashed avocado (photo 2), add fried egg (photo 3), season and drizzle over hot sauce (photo 4).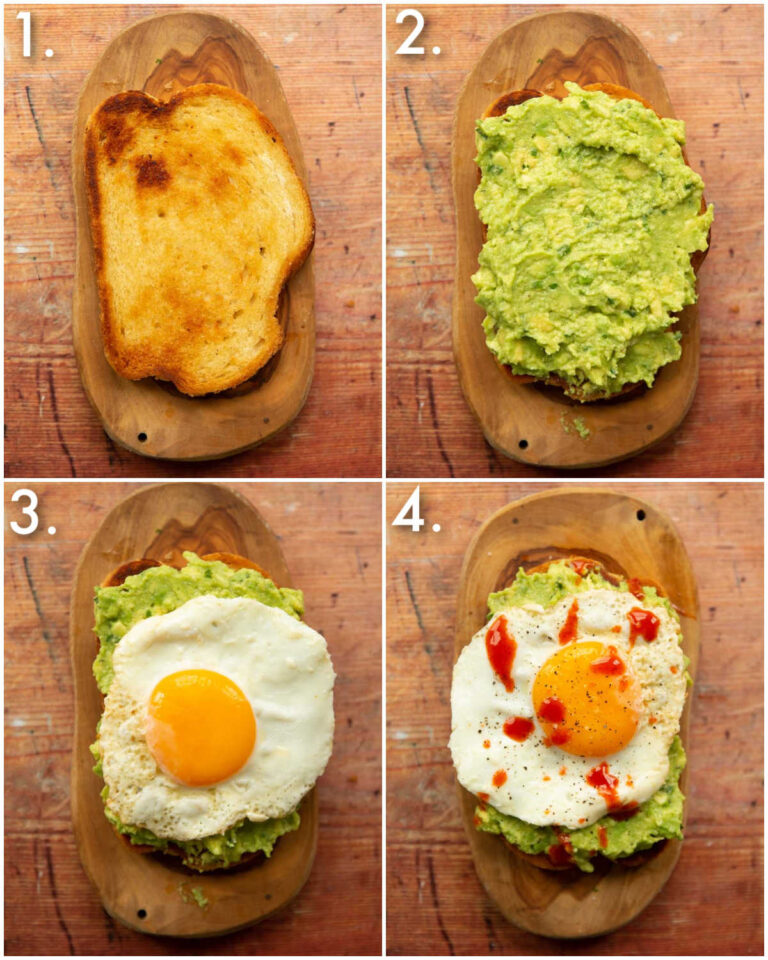 Serving Avocado Egg Toast
I usually whip this up for Breakfast or Brunch on the weekend. It's perfect as it is, but if you wanted to take things up a notch you could serve with Hash Browns or Breakfast Potatoes!
Alrighty, let's tuck into the full recipe for this fried egg on toast shall we!?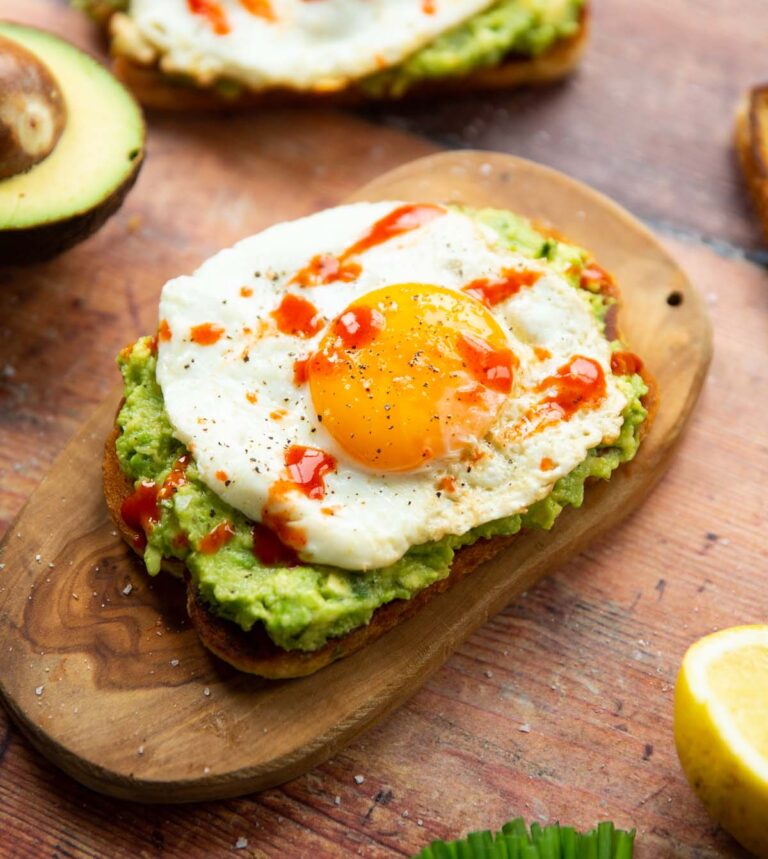 How to make Avocado Egg Toast

 (Full Recipe & Video)
Avocado Egg Toast
Here I'll show you THE most delicious way to serve up avocado and egg on toast!
Prep Time
10

minutes
minutes
Cook Time
10

minutes
minutes
Total Time
20

minutes
minutes
Equipment
Medium Sized Mixing Bowl & Fork

(for smashed avocado)

Large Non-Stick Pan

(for eggs & bread)

Sharp Knife & Chopping Board

(for chives & lemon)
Ingredients
3

medium-large slices of

Bread (something firm like a sourdough works fell)

2

medium sized

Avocados, halved, pitted and peeled

3

Eggs

1

tbsp finely diced

Fresh Chives

1/2

tbsp EACH:

Lemon Juice, Extra Virgin Olive Oil

1

tbsp

Butter, or as needed
Salt & Black Pepper, to taste
Hot Sauce, to taste
Instructions
In a medium-sized bowl add avocado with chives, lemon juice, extra virgin olive oil and a good pinch of salt & pepper to taste. Roughly smash with a fork (a few lumps here and there are fine). Place to one side.

Add 1 tbsp butter to a large non-stick pan over medium heat. Once melted, carefully crack in the eggs close to the pan. Begin basting the egg whites with the butter until the egg whites are opaque. Remove eggs, leaving the leftover butter in the pan.

Lay bread in the leftover butter and toast both sides until golden for a couple of minutes. Add more butter if it all soaks up on the first side and work in batches if you need to.

Stack fried bread with smashed avocado, followed by a fried egg with a good pinch of salt and pepper and hot sauce to preference!
Notes
a)  Hot Sauce – I'd recommend a few drops even if you're not good with spice. It adds a final kick of flavour to cut through the richness of the yolk and buttery eggs. Don't sub with chilli/red pepper flakes, they don't offer the same kind of tangy/vinegary flavour. I typically use Cholula hot sauce, but Frank's and Tabasco also work well.
b) Runny egg yolks – You don't have to make sunny side up eggs if you don't like runny egg yolk; you could make them over easy instead. Once they're all cooked (a little ring of uncooked white around the yolk) just flip them over and fry for another 30 seconds or so. For over medium or hard just flip them sooner and cook longer on the flipped side until the yolk is cooked to your preference.
c) Can I make scrambled eggs or poached eggs instead? – Yep! Check out my Perfect Scrambled Eggs and Perfect Poached Eggs 🙂
d) Calories – Per toast.
Nutrition
Calories:
412
kcal
|
Carbohydrates:
26.79
g
|
Protein:
10.94
g
|
Fat:
30.95
g
|
Saturated Fat:
7.181
g
|
Polyunsaturated Fat:
4.141
g
|
Monounsaturated Fat:
17.57
g
|
Trans Fat:
0.181
g
|
Cholesterol:
174
mg
|
Sodium:
249
mg
|
Potassium:
755
mg
|
Fiber:
9.8
g
|
Sugar:
2.83
g
|
Vitamin A:
596
IU
|
Vitamin C:
15
mg
|
Calcium:
86
mg
|
Iron:
2.62
mg
---
For more similar recipes check out these beauties:
Delicious Toast Recipes
---
If you loved this Avocado Egg Toast Recipe then be sure to pin it for later! Already made them or got a question? Give me a shout in the comments below and pick up your free ecookbook along the way!
The post Avocado Egg Toast appeared first on Don't Go Bacon My Heart.
Here I'll show you THE most delicious way to serve up avocado and egg on toast! There's a ridiculous amount of different ways you could make avocado and egg on toast, and whilst there's no right or wrong way, today I'm going to show you the best way 😛. Follow me… Smashed Avocado The avocado…