Cheesy Scrambled Eggs
by Admin

Posted on

January 19, 2022
Scrambled eggs are great, but cheesy scrambled eggs are even better. Plus they couldn't be easier to make!
Looking for an easy and delicious way to level up your scrambled egg game? Look no further. Follow me…
Scrambled Eggs with Cheese
Eggs and cheese have been happening under our noses since, well, forever. Think Omelettes, think Frittatas, think Breakfast Sandwiches. It's just this time we're binding the cheese and eggs together to make a glorious marriage of flavours.
Cheesy Scrambled Eggs Ingredients
Eggs – Large and fresh.
Cheddar – Make sure this is finely grated, just so it melts into the eggs easier.
Cream Cheese – This not only adds another subtle layer of cheesiness, but it also adds a creaminess to the texture of the eggs.
Chives – Add a hit of flavour and pop of colour to garnish.
Salt and Pepper – To taste.
How many eggs should I use for one serving of scrambled eggs?
3 eggs per person. Here we're using 6, so this recipe feeds two.
Can I use different types of cheese?
Other than cheddar, I've used Monterey Jack in this recipe which worked well. Ideally you want something with a similar melty texture to cheddar, like Swiss or Gouda.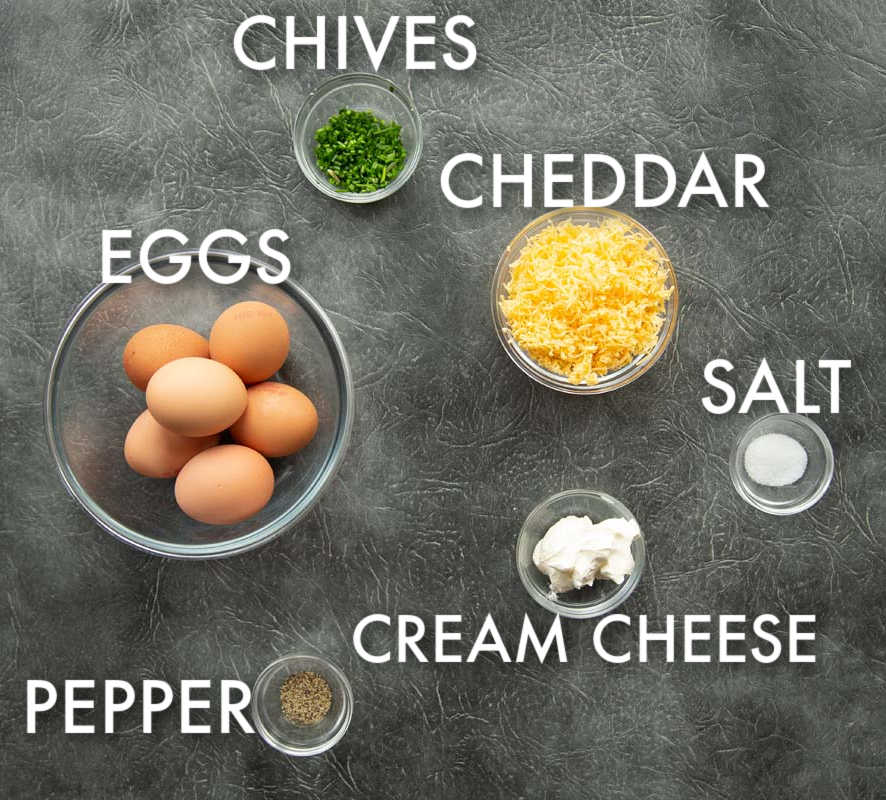 Preparing Cheesy Scrambled Eggs
The easiest way to get the smoothest eggs is beating with a whisk. You can use a fork, it just requires a bit more elbow grease.
Next up is seasoning. Firstly, no black pepper at this point, it will discolour the eggs and turn them a little grey. We'll add this when serving. I like a pinch of salt at this point, then you can adjust with more when serving if needed.
Making Cheesy Scrambled Eggs
In general, when making scrambled eggs, the key is low and slow. For my Perfect Scrambled Eggs I recommend spending up to 10mins gently scrambling the eggs. Now you don't want to be quite so excessive with cheesy scrambled eggs, because you run the risk of the cheese splitting, but the general idea of frying on low heat is preferable. It gives the eggs a far richer flavour, and a much more smooth and velvety texture.
The key to velvety scrambled eggs is making big circular motions with the spatula, as opposed to lots of tiny rapid ones. You want nice big long curds.
I also recommend taking the eggs off the heat when they're nearly done. You want them still a touch runny, they'll continue cooking from carry over heat as they rest.
Serving Cheesy Scrambled Eggs
When it's time to serve up, go in with a good pinch of black pepper and fresh chives. These eggs are awesome on toast – here I've added some crispy bacon, sliced avocado and tomatoes.
After another delicious way to spruce up scrambled eggs? Check out my Chorizo Scrambled Eggs!
Alrighty, let's tuck into the full recipe for these Cheesy Scrambled Eggs Shall we?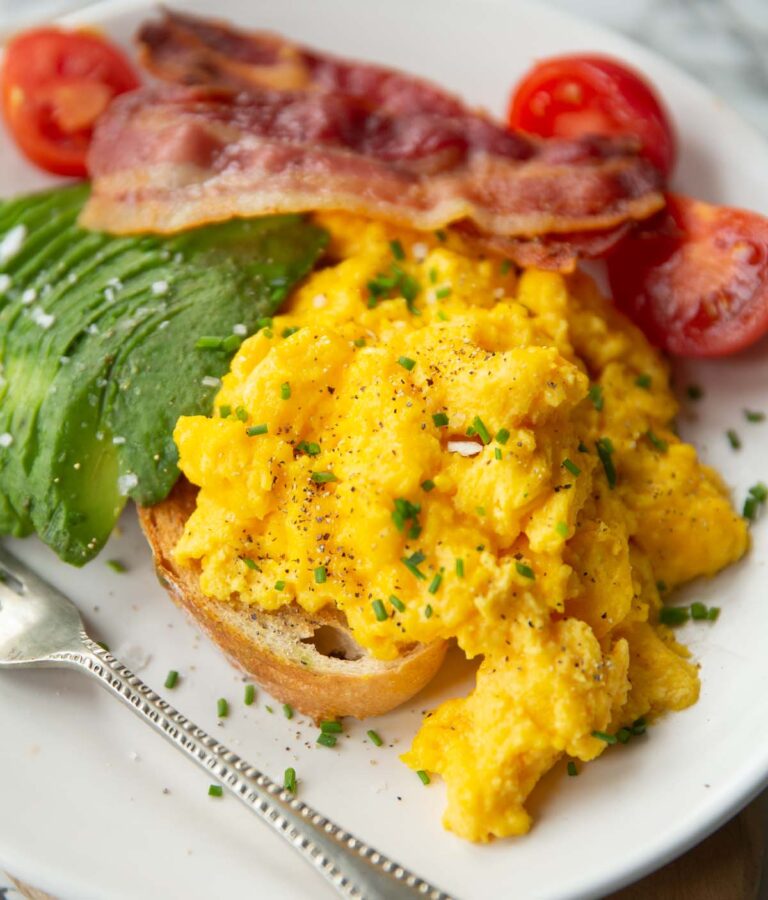 How to make Cheesy Scrambled Eggs (Full Recipe & Video)
Cheesy Scrambled Eggs
Scrambled eggs are great, but cheesy scrambled eggs are even better. Plus they couldn't be easier to make!
Cuisine
American, British
Prep Time
2

minutes
minutes
Cook Time
5

minutes
minutes
Total Time
7

minutes
minutes
Equipment
Large Non-Stick Pan

Spatula

Bowl

Whisk

Fine Cheese Grater
Ingredients
6

Eggs

1/2 cup / 50g

finely grated

Cheddar

2

tbsp

Cream Cheese
Salt & Black Pepper, as needed

finely diced

Chives, to serve
Instructions
Crack 6 eggs in to a bowl, then add a pinch of salt and whisk until smooth.

Add 2 tbsp cream cheese to a non-stick pan over low heat. Use your spatula to melt and spread the cheese across the pan, then pour in the beaten eggs. Sprinkle over cheddar, then begin gently stirring the eggs.

Ensure the heat stays nice and low, and make long strides with the spatula (not rapid tiny ones). After a few minutes the cheese should melt and blend in with the eggs. The eggs should start to turn into a thick custardy texture, with smaller curds forming. At this point stir in a circular motion to form larger curds. Try and prevent the eggs catching on the pan.

When the eggs have formed into large soft curds, but still very slightly runny, take off the heat. Serve up with chives and black pepper!
Notes
a) Low 'n' Slow – Patience is key here, just so the cheese gets a chance to melt and bind with the eggs. There's nothing worse than tough, dry scrambled eggs, so don't crank up the heat to speed things up. It can take around 5mins for the eggs to scramble over low heat.
b) Cheese – Cheddar works best here, but other similar melty cheeses like Monterey Jack work well. In both cases just make sure it's finely grated to help it melt easier. I highly recommend adding the cream cheese as it adds a nice creaminess and a subtle cheesy flavour too, but if you don't have it sub for butter.
c) Serving – Chives are key for a pop of colour and hit of flavour (they pair beautifully with both eggs and cheese). Always great on toast, here I've served with avocado, bacon and tomatoes too.
d) Calories – Shared between two using large eggs:
Nutrition
Calories:
373
kcal
|
Carbohydrates:
1.98
g
|
Protein:
26.7
g
|
Fat:
28.11
g
|
Saturated Fat:
12.863
g
|
Polyunsaturated Fat:
3.426
g
|
Monounsaturated Fat:
9.079
g
|
Trans Fat:
0.39
g
|
Cholesterol:
600
mg
|
Sodium:
460
mg
|
Potassium:
245
mg
|
Sugar:
1.16
g
|
Vitamin A:
1245
IU
|
Calcium:
285
mg
|
Iron:
2.84
mg
---
If you loved this Cheesy Scrambled Eggs Recipe recipe then be sure to pin it for later! Already made them or got a question? Give me a shout in the comments below and pick up your free ecookbook along the way!
The post Cheesy Scrambled Eggs appeared first on Don't Go Bacon My Heart.
Scrambled eggs are great, but cheesy scrambled eggs are even better. Plus they couldn't be easier to make! Looking for an easy and delicious way to level up your scrambled egg game? Look no further. Follow me… Scrambled Eggs with Cheese Eggs and cheese have been happening under our noses since, well, forever. Think Omelettes,…