Deviled Egg Pasta Salad
by Admin

Posted on

April 12, 2021
This deviled egg pasta salad is loaded with so many goodies. It's also so quick and easy to make!
Ever torn between taking either a pasta salad or egg salad to a BBQ? Why choose when you can have both 😛. This pasta is PERFECT for Summer, awesome as a side or great just as a quick & easy lunch. Follow me…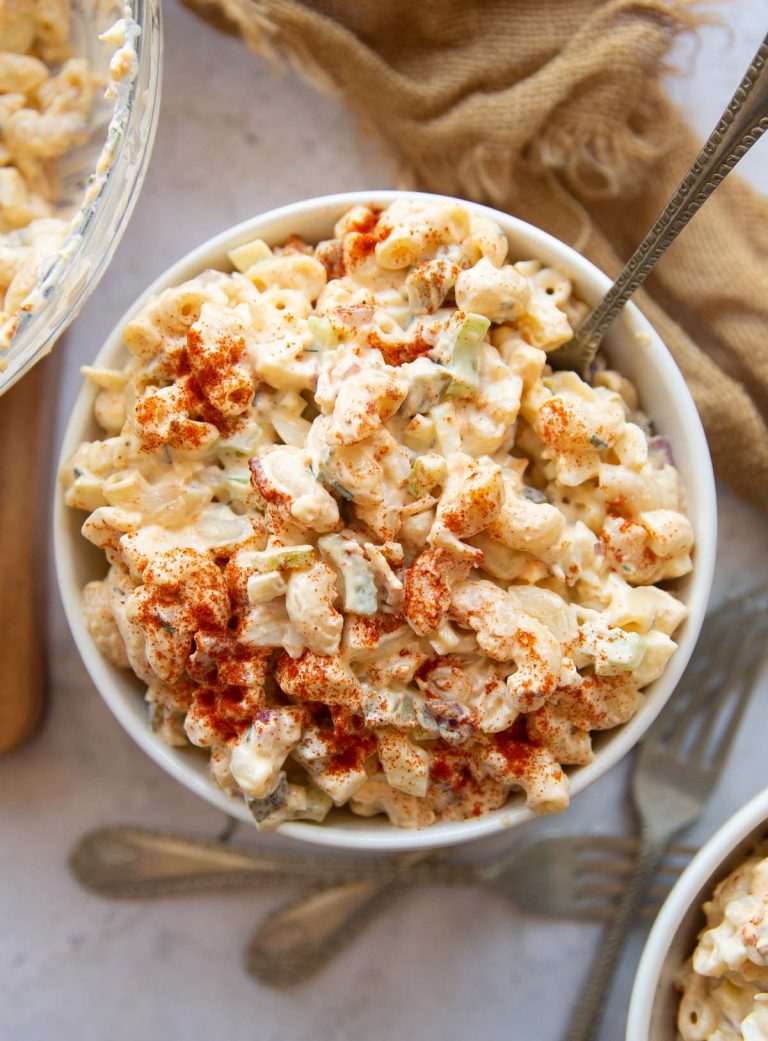 The ULTIMATE Egg Pasta Salad
Whilst it may seem like an odd idea to combine egg and salad pasta, I promise it totally works. You get those same iconic flavours of deviled eggs all wrapped inside a loaded pasta salad.
What makes something deviled?
Deviling something essentially means to aggressively season or add spice. In this context, and in the context of deviled eggs, the key ingredient is mustard. Alongside this I like to add white pepper, which gives a very gentle kick of heat, and hot sauce, which gives more of an intense kick of spice.
Is this pasta salad spicy?
Because the dressing is very creamy, this spice in this recipe is actually fairly mellow. It's more about the flavour that the mustard, pepper and hot sauce offers. You can however adjust the measurements to suit your spicy needs!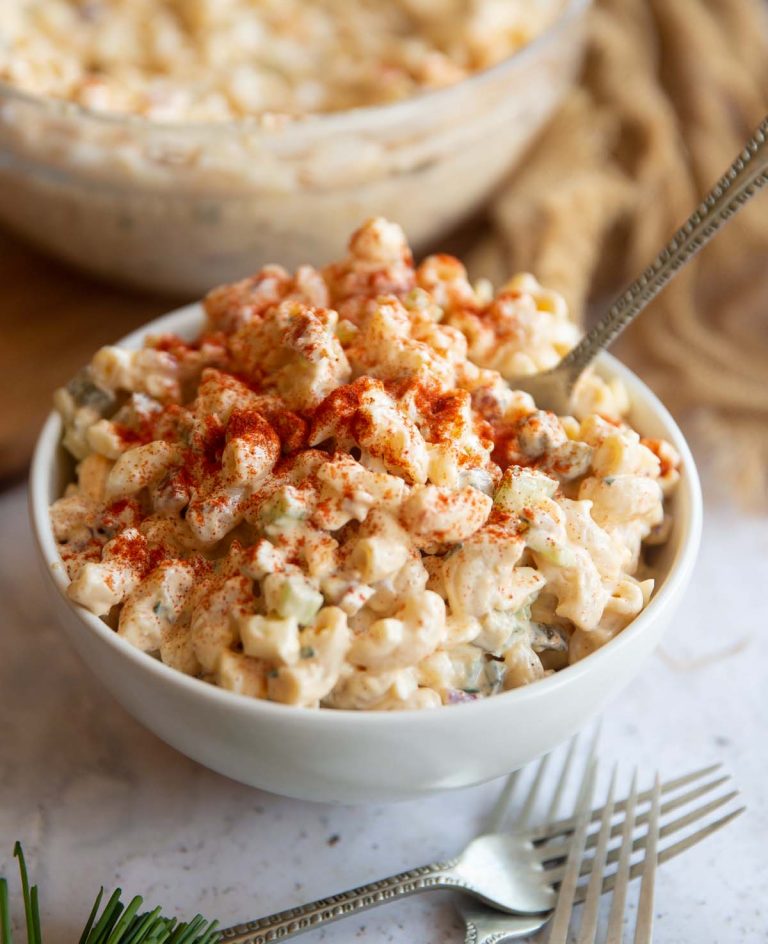 Making Deviled Egg Pasta Salad
The dressing itself is mayonnaise based, but I also like to add in sour cream for some extra creaminess. A lot of deviled egg pasta recipes actually mash/stir in the cooked egg yolk in with the dressing. Whilst this is a more traditional way to make deviled eggs, I find it turns the dressing a bit clumpy when it's used as a pasta dressing.
What Pasta to use?
100% gotta be macaroni! Just cook in salted water until al dente, then drain in cold water until completely.
What fillings can I add?
The world is your oyster, but here's the usual suspects in mine:
Bacon
Dill Pickles
Celery
Red Onion
Chives
Process shots: in a small bowl add mayo, sour cream, pickle juice, dijon, hot sauce, salt, sugar and pepper (photo 1), stir to combine (photo 2), cook, rinse and drain pasta (photo 3), add hard boiled egg, fillings & dressing then combine (photo 4).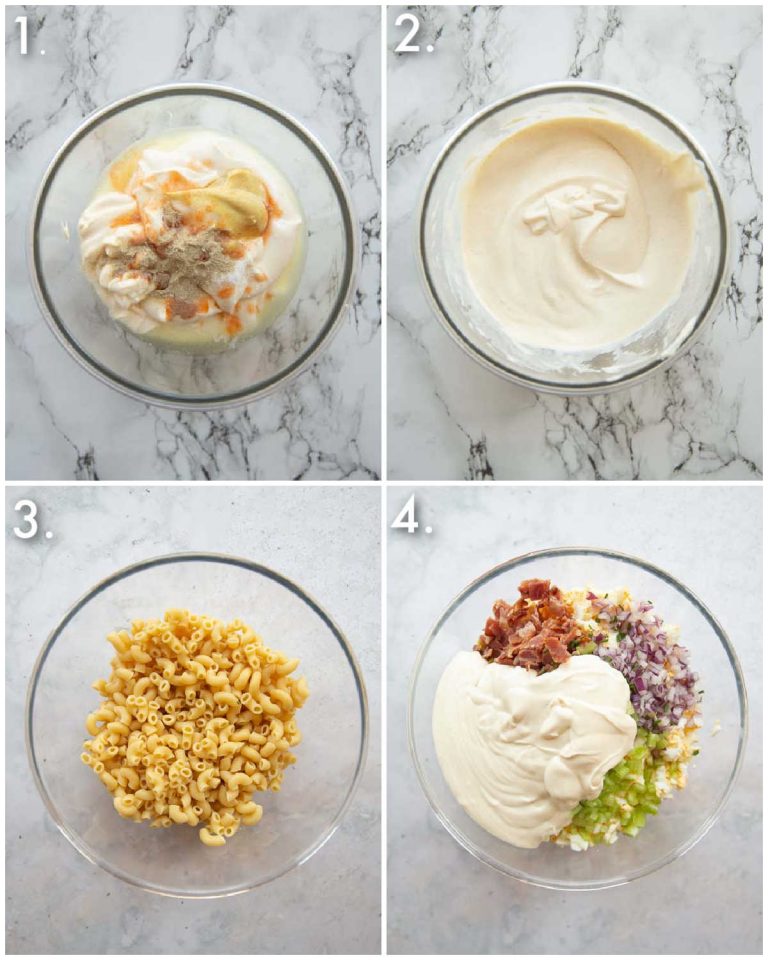 Serving Deviled Egg Pasta Salad
To serve up I recommend sprinkling over a few pinches of smoked paprika. This adds a nice pop of colour, but also adds a nice smoky twang. You can also serve individual portions with a few more drops of hot sauce if you fancied!
Can I make this ahead of time?
Yep! Just tightly cover in the fridge until needed (will last around 3 days).
Alrighty, let's tuck into the full recipe for this deviled egg pasta salad shall we?!
How to make Deviled Egg Pasta Salad

 (Full Recipe & Video)
Deviled Egg Pasta Salad
This deviled egg pasta salad is loaded with so many goodies. It's also so quick and easy to make!
Course
Lunch, Pot Luck, Side Dish
Prep Time
15

minutes
minutes
Cook Time
10

minutes
minutes
Total Time
25

minutes
minutes
Equipment
Medium Pot with Lid (for eggs)

Medium Pot & Colander (for pasta)

Small Mixing Bowl & Spatula (for dressing)

Large Mixing Bowl & Salad Tossers

Sharp Knife & Chopping Board
Ingredients
Dressing
1 cup / 240g

Full Fat Mayo

1/4 cup / 60g

Sour Cream

1 1/2

tbsp

Dijon Mustard

1

tbsp

Gherkin/Dill Pickle Juice

1/2

tsp EACH:

Sugar, Salt, Hot Sauce (or to taste)

1/4

tsp

White Pepper
Pasta Salad
9oz / 250g

Dried Macaroni

6-8

Hard Boiled Eggs, diced (see notes)

1/3 cup / 5 rashers

Bacon, cooked, cooled & chopped

1/3 cup / 4-5 small

Gherkins/Dill Pickles, finely diced

1/3 cup / 1 large stalk

Celery, finely diced

1/3 cup / 1 small

Red Onion, finely diced

1

tbsp

Chives, finely diced

few pinches of

Smoked Paprika, to serve
Instructions
Pasta: Pop your pasta in salted boiling water and cook until al dente. Drain in a colander and rinse with cold water until completely cold. Ensure you've shook out all the water, then place in a large mixing bowl.

Dressing: In a small mixing bowl combine mayo, sour cream, dijon mustard, pickle juice, sugar, salt, white pepper and hot sauce. Taste test for seasoning and adjust if desired.

Pasta Salad: To the large mixing bowl of pasta add hard boiled egg, bacon, celery, red onion, chives and pickles. Pour in the dressing and use salad tossers to mix everything.

Serve: Sprinkle over a few pinches of smoked paprika. Tightly cover and store in the fridge or serve up right away. I like to give it an hour, just to allow the flavours to marry.
Notes
a) Hard Boiled Eggs – I know everyone has their own method of boiled eggs, but here's what I do:
Place eggs in a pot and cover with cold water (make sure every part of all the eggs is comfortably covered).
Turn on high heat and leave until the you reach a rolling boil. Once the eggs start dancing, immediately turn off the heat, pop on a lid and leave on the hob for 10mins.
After 10 mins, spoon eggs into a bowl of ice (or very cold) water (this is to stop the cooking process).
Peel and dice eggs to desired texture for egg mayo.
b) Quantities – Feel free to increase any of your favourite fillings (i.e the bacon). This is just what I recommend. Everything is equal quantities in 1/3 cups measurements too.
c) Make Ahead – This will store for comfortably for 3 days tightly stored in the fridge. It holds up pretty well and stays relatively creamy, but you can stir through a dollop of mayo just before serving if you think it needs it.
d) Calories – one serving (8 in total).
Nutrition
Calories:
462
kcal
|
Carbohydrates:
26.73
g
|
Protein:
13.14
g
|
Fat:
33.15
g
|
Saturated Fat:
5.561
g
|
Polyunsaturated Fat:
13.558
g
|
Monounsaturated Fat:
7.183
g
|
Trans Fat:
0.053
g
|
Cholesterol:
205
mg
|
Sodium:
547
mg
|
Potassium:
257
mg
|
Fiber:
1.4
g
|
Sugar:
2.1
g
|
Vitamin A:
355
IU
|
Vitamin C:
0.9
mg
|
Calcium:
54
mg
|
Iron:
1.25
mg
---
Looking for another Summer pot luck winner? Check out my Creamy Bacon Potato Salad!
For more similar recipes check out these beauties:
Delicious Pasta Salad Recipes
---
The post Deviled Egg Pasta Salad appeared first on Don't Go Bacon My Heart.
This deviled egg pasta salad is loaded with so many goodies. It's also so quick and easy to make! Ever torn between taking either a pasta salad or egg salad to a BBQ? Why choose when you can have both 😛. This pasta is PERFECT for Summer, awesome as a side or great just as…