Sweet Potato Frittata
by Admin

Posted on

February 11, 2021
This Sweet Potato Frittata is absolutely packed full of flavour. It's quick, easy and perfect for lunch!
A frittata is great because it's essentially a quiche without the fuss of making a crust. Sometimes you want lunch and you want it now. Without making pastry, blind baking and all that malarkey (I mean it's really not all that much fuss but clearly I've turned into a kitchen diva since last time you were here). Frittata! You're gonna love it! Follow me!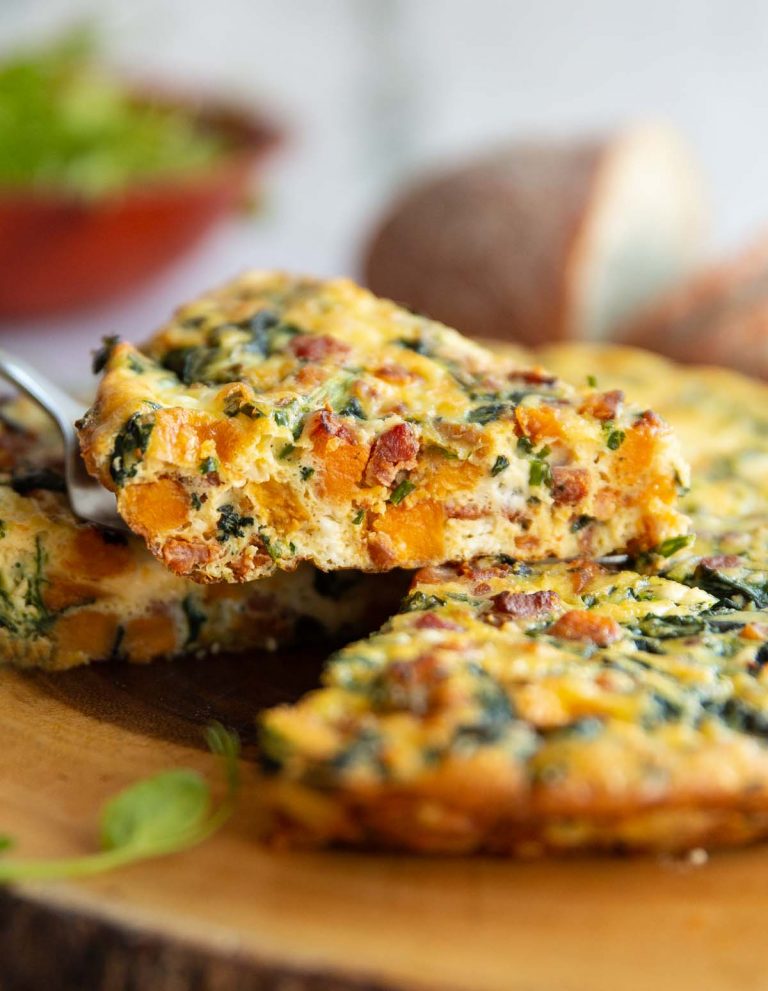 The BEST Frittata Recipe!
Yep, I'm putting it out there. For me, there's nothing worse than a frittata that overwhelmingly tastes of egg. I see a frittata as an opportunity to load in as much flavour as possible, and that's exactly what I've done here. I was anticipating this recipe to be somewhat 'healthy' but this is me and this is this blog, so obviously somehow we've still ended up with cream, cheese and bacon 🤣
Sweet Potato Frittata Ingredients
Eggs – The heart and soul of the dish, keeps everything intact and creates the base of the frittata.
Cream – This helps create a smooth, almost custardy texture.
Sweet Potato – Peeled and diced into tiny chunks.
Baby Spinach – I'm not a huge fan of big strands of spinach in a frittata, I think it breaks up the texture too much. As such I like to roughly chop the spinach before wilting it down.
Pancetta – I like the cubed pancetta you get from the store because it's nice and fatty. This means you get plenty of leftover fat to fry the sweet potato in, which adds a ton of flavour. You can use bacon though if that's all you can get your hands on.
Feta – This not only adds flavour, but also helps create a creamy texture. When you bake feta it goes gorgeously soft!
Chives – These add a nice punch of flavour, don't leave them out!
Butter – To fry and wilt down the spinach.
Salt & Pepper – All you need seasoning wise. Let the ingredients do the talking!
Can I sub the Sweet Potato?
Don't sub with regular potato, it needs to be sweet to balance out the flavours. If you're looking for a more low carb version I imagine butternut squash would work well.
First thing you'll want to do is whisk the eggs together with cream and a good pinch of salt and pepper. I recommend using large fresh eggs.
Can I use milk instead of cream?
Yes, if you don't have cream then milk will work just as well. I recommend semi-skimmed or whole, just to add a creaminess to the frittata.
Process shots: add cream, eggs and s&p to bowl (photo 1), whisk until smooth (photo 2).
One Pan Frittata
The great thing about a frittata is that's it's all cooked in one pan. Hey, who doesn't love less washing up?!
What kind of pan should I use for a frittata?
Here I use a 9″ pan, which works perfectly for a frittata of this size. 10″ would be fine, the frittata would just be on the thinner side. In both cases though it's important that the pan is non-stick and is oven safe.
Can you make frittata in a baking dish?
If you're pan isn't suitable for the oven, isn't non-stick or isn't the right size, just pour it all into a baking dish and cook it that way!
A couple of tips when making the frittata: 1. Make sure you use the pancetta fat – it adds heaps of flavour! 2. Ensure you distribute out the ingredients as best you can, just so you don't get a clump of just one thing. I like to actually scoop out some of the filling and pour on top once I've added the eggs. I find this helps prevent everything from sinking to the bottom.
Process shots: add pancetta to pan (photo 1), fry then remove (photo 2), fry sweet potato in leftover fat (photo 3), add in butter (photo 4), fry spinach (photo 5), add in pancetta, feta and chives, then remove 1/3 (photo 6), pour in eggs then add filling on top (photo 7), bake (photo 8).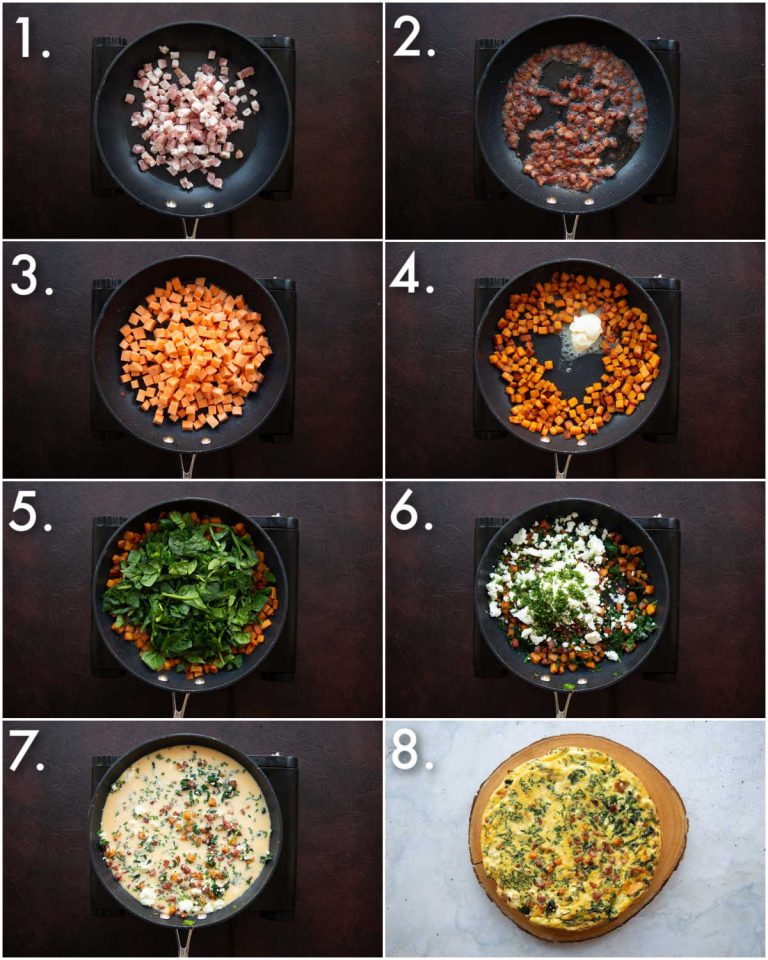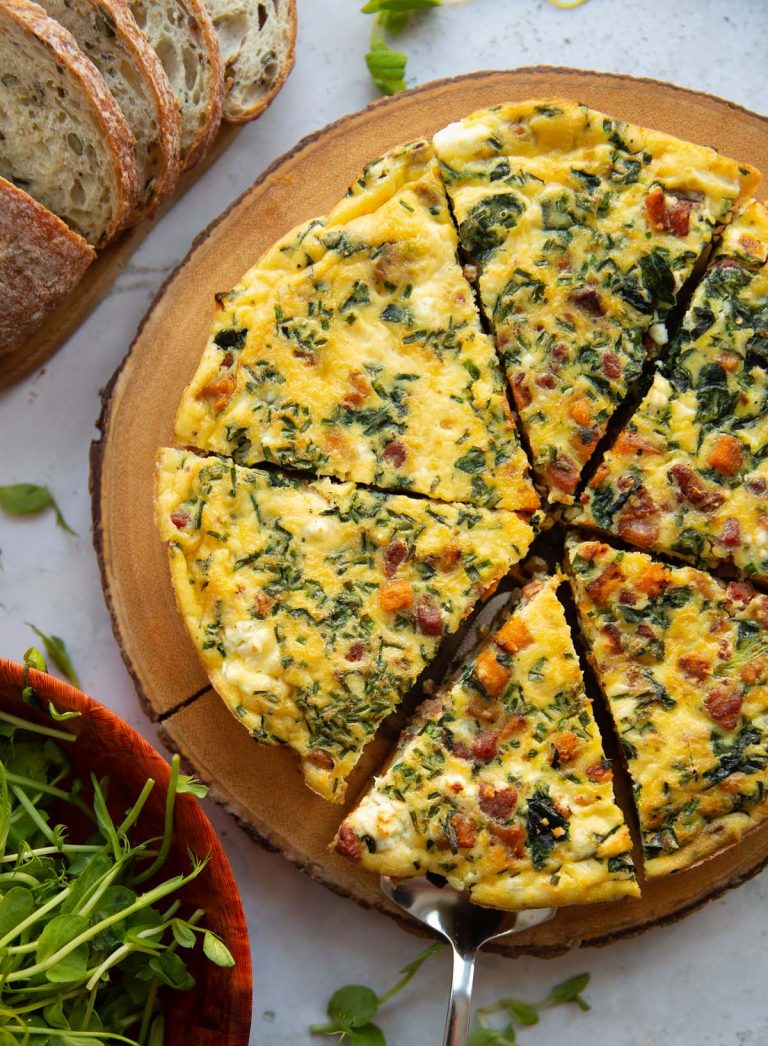 Serving Sweet Potato Frittata
This will feed four hungry people or 6 with a small side salad. Any leftovers just tightly cover in the fridge for 2-3days. I usually blitz in the microwave to reheat, but room temp also works well!
If you're looking for more one pan egg recipes check out these beauties:
Alrighty, let's tuck into the full recipe for this sweet potato frittata shall we?!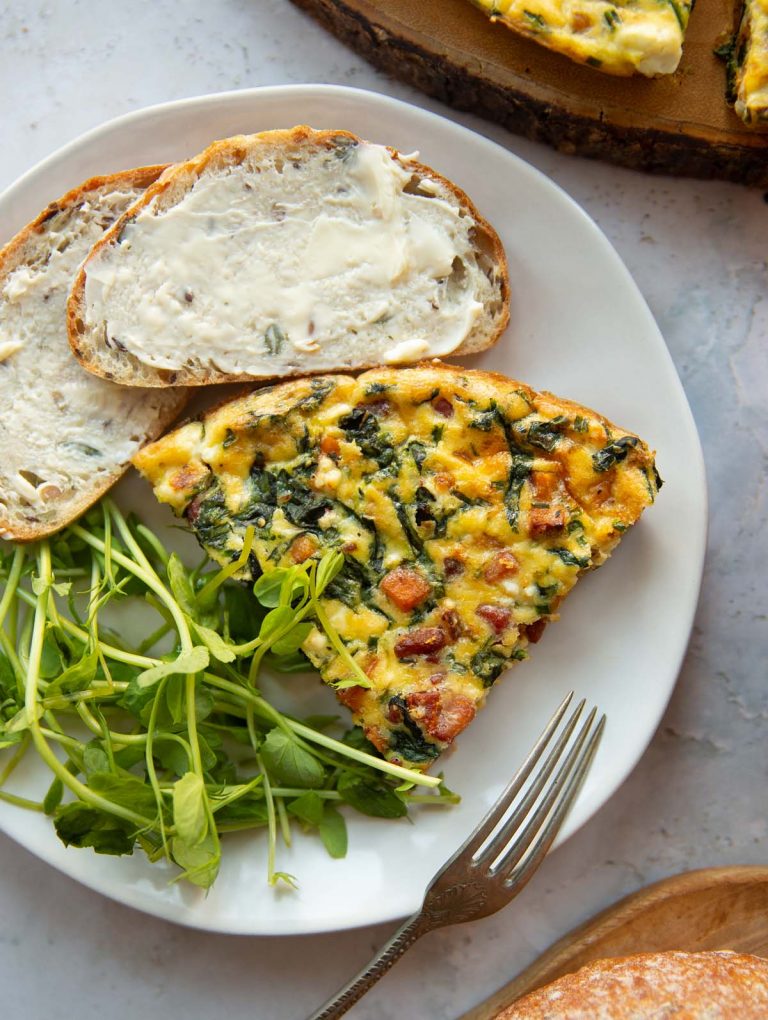 How to make a Sweet Potato Frittata

 (Full Recipe & Video)
Fully Loaded Sweet Potato Frittata
This Sweet Potato Frittata is absolutely packed full of flavour. It's quick, easy and perfect for lunch!
Prep Time
10

minutes
minutes
Cook Time
25

minutes
minutes
Total Time
35

minutes
minutes
Equipment
9" Non-Stick Oven Safe Pan (see notes)

Medium Sized Mixing Bowl & Whisk

Wooden Spoon

Sharp Knife & Chopping Board

Potato Peeler
Ingredients
6

Eggs

1/4 cup / 60ml

Heavy/Double Cream (can sub milk)

10.5oz / 300g

Sweet Potato, peeled & diced into very small chunks (weighed AFTER peeling, it's around 1 medium sweet potato)

5oz / 150g

Pancetta, diced (can sub bacon)

3.5oz / 100g

Feta, crumbled

3.5oz / 100g

Baby Spinach, roughly chopped

1

tbsp finely diced

Chives

1

tbsp

Butter
Instructions
Crack 6 eggs into a medium sized mixing bowl. Add 1/4cup cream or milk alongside a good pinch of salt and pepper then whisk until smooth. Place to one side.

In a 9" non-stick oven safe pan add pancetta over low-medium heat. Fry until crispy with the fat fully rendered down, then remove, leaving the fat behind.

Turn heat up to medium and add in sweet potato. Fry in the leftover fat until crispy on the outside and soft through the centre. Melt in 1 tbsp butter then add in spinach. Continue frying until the spinach wilts down, then turn down heat and add in the crispy pancetta alongside feta and chives. Give it a quick stir to distribute the ingredients, then scoop out around 1/3 of it. Pour in eggs, then add the rest of your filling on top.

Pop in the oven at 180C/350F until cooked right through the centre. You can test to see if a knife comes out dry when poked in the centre. It should be firm when you give the pan a shake too. Around 12-15mins, but just be vigilant.

Allow to rest for a couple of minutes then slice up and enjoy!
Notes
a) Frying Pan – I find a 9″ pan is the perfect size for the frittata. You could use a 10″ pan, but the frittata will be slightly thinner. Most important that it's non-stick and oven safe. If it's not, just pour everything into a baking dish and bake from there! 
b) Leftovers – Tightly cover in the fridge for 2-3days. I usually reheat in the microwave, but room temp also works well.
c) Subs – Butternut squash would make a good sub for the sweet potato (don't sub regular potato, you need something sweet to balance the flavours). Goats cheese would make a nice sub for feta, and if you want to go wild then sub the pancetta for chorizo!
d) Serving – It'll feed 4 hungry people or 6 with a side salad. I tend to serve this with lashings of hot sauce, just because I love the stuff. But that's totally optional.
e) Calories – whole recipe divided by 4. Calories for 1 portion (1/4th)
Nutrition
Calories:
443
kcal
|
Carbohydrates:
18.11
g
|
Protein:
18.58
g
|
Fat:
33.05
g
|
Saturated Fat:
10.427
g
|
Polyunsaturated Fat:
1.737
g
|
Monounsaturated Fat:
5.712
g
|
Trans Fat:
0.025
g
|
Cholesterol:
292
mg
|
Sodium:
570
mg
|
Potassium:
691
mg
|
Fiber:
2.8
g
|
Sugar:
5.2
g
|
Vitamin A:
13656
IU
|
Vitamin C:
9.3
mg
|
Calcium:
220
mg
|
Iron:
2.65
mg
---
If you loved this Frittata recipe then be sure to Pin it for later! Already made it or got a question? Give me a shout in the comments and pick up your free ecookbook along the way!
The post Sweet Potato Frittata appeared first on Don't Go Bacon My Heart.
This Sweet Potato Frittata is absolutely packed full of flavour. It's quick, easy and perfect for lunch! A frittata is great because it's essentially a quiche without the fuss of making a crust. Sometimes you want lunch and you want it now. Without making pastry, blind baking and all that malarkey (I mean it's really…